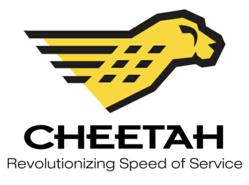 The result has been a 7% increase in productivity, a 5% to 10% decrease in miles per stop, reduced fuel costs, and savings from consolidating dispatch from 30 terminals to one. Total annual savings from utilizing Cheetah Freight exceed $1,500,000.
Westlake Village, CA (PRWEB) May 11, 2011
Cheetah Software Systems, Inc. is excited to announce their selection as a member of the Supply & Demand Chain Executive 100. Cheetah was selected based on the successful implementation of Central Freight Line's digital dispatch management project completed in May, 2009 and for its impact on Central Freight's ability to profitably provide outstanding customer service.
Central Freight Lines implemented the project to provide real-time delivery status to customers, increase dispatch operations and scheduling efficiency, and integrate pickup and delivery information into its backend systems. Cheetah Freight was selected to accomplish these objectives, and the project was implemented in approximately 90 days.
The project involved integrating data from Central Freight's mainframe system into Cheetah Freight, equipping drivers with GPS-enabled cell phones running the Cheetah Mobile application, and training dispatchers and customer service representative in the Cheetah Freight SaaS solution.
The project's result is that all Central Freight stakeholders—dispatchers, drivers, customer service reps, and customer employees—enjoy real-time access to information about deliveries and pickups. They know where a driver has been, where he's going, and when he'll arrive. This also allows dispatchers to quickly determine the most efficient routes and update them on-the-fly, and customer service reps to inform customers immediately about their order status.
Central Freight now has unmatched visibility into fleet operations via real-time GPS tracking utilizing affordable cell phones. Dispatcher and customer service representative efficiency has increased dramatically via improvements in visibility, communications, and better information on the current and predicted location of drivers and freight.
Cheetah Freight provides Central Freight with three primary advantages. First, dispatchers enjoy previously unavailable real-time pickup and delivery status information. Second, dispatchers make decisions more efficiently and dynamically regarding the best drivers to service on-demand pickups. Third, Central Freight can now immediately integrate pickup and delivery status into their backend systems for processing, rather than delaying until the end of the day.
The result has been a 7% increase in productivity, a 5% to 10% decrease in miles per stop, and reduced fuel costs. Further cost savings have resulted from consolidating dispatch from 30 terminals to one. Total annual savings from utilizing Cheetah Freight exceed $1,500,000.
"After only six months or so, Cheetah had already accomplished the productivity increases and reduction in miles per stop that we hoped to accomplish with the solution," said Mark Stein, Director of Operations Services for Central Freight. "But our return on investment has gone far beyond what we anticipated. Even more important, we've been able to remotely dispatch multiple locations from a single location. We've been able to consolidate management teams and more efficiently manage the business. And, we've been able to provide better customer service by centralizing our customer service function."
"We simply didn't expect Cheetah to allow us to accomplish in two months our long-term plans for consolidation and centralization. Our ability to do so has helped us weather the storm in this incredibly difficult economy," Stein said.
"Competition in the transportation industry is tighter than ever and is compounded by global economic conditions", said Bobby Darroll, Cheetah's President and CEO. "Cheetah is honored to be recognized as a Supply & Demand Chain Executive 100. We're excited to be able to help Central Freight Lines, along with all of our customers, accomplish their goals of increased efficiencies and profitability and improved customer service."
Criteria:
The 2011 Supply & Demand Chain Executive 100 are supply chain solution and service providers that are assisting their customers and clients achieve supply chain excellence and prepare their supply chains for the post-recessionary return to growth.
For this year's "Supply & Demand Chain Executive 100" feature, the magazine is looking to highlight supply chain transformation projects that have had a significant impact on the company's going through the implementations. Through an online submission process, the magazine collected information on supply chain transformation projects, including information on the objectives, scope, timeline and results of the project.
The submissions were evaluated by the magazine's editorial staff primarily based on: ambitiousness/scope of the project (30%); creative application of technologies/solutions/services used (20%); extent of the business results/impact (40%); clarity of submission (10%).
About Cheetah Software Systems, Inc.:
Cheetah Software Systems provides dynamic, intelligent wireless solutions to automate and optimize delivery route planning, pickup assignment, dispatch, and customer service. Fully scalable and Web-based, Cheetah solutions increase productivity and profitability for carriers of any size with minimal up-front costs. Cheetah's private fleet and LTL customers utilize GPS-enabled phones and PDAs to schedule, route, and track drivers and shipments. Today, Cheetah streamlines business and home delivery transactions for hundreds of firms across North America. For more information call 888-Cheetah or visit http://www.cheetah.com.
About Central Freight Lines:
Central Freight Lines is a less-than-truckload (LTL) for-hire common motor carrier of general freight commodities headquartered in Waco, TX. Founded in 1925, the company is privately owned by Mr. Jerry Moyes of Phoenix, AZ and operates from 52 terminals nationwide. Central Freight Lines is recognized for its ongoing accomplishments in service, quality, and safety. For more information call 800-782-5036 or visit online at http://www.centralfreight.com.
About Supply & Demand Chain Executive:
Supply & Demand Chain Executive is the executive's user manual for successful supply and demand chain transformation, utilizing hard-hitting analysis, viewpoints and unbiased case studies to steer executives and supply management professionals through the complicated, yet critical, world of supply and demand chain enablement to gain competitive advantage. On the Web at http://www.SDCExec.com.
###