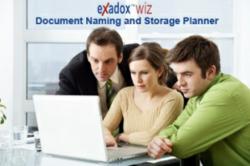 Who would ever imagine that creating and documenting file naming and storage policies could be easy, fast and fun?
Montreal, Canada (PRWEB) May 17, 2011
MultiCIM Technologies Inc. announces the release of eXadox™ WIZ, an innovative software wizard that simplifies the creation, re-working, and sharing of file naming /storage policies for all operational entities (e.g., departments, workgroups, business-units, etc...). As a best practice, all productivity improvement oriented companies should institute standardized file naming and storage policies. Ultimately, the efficiency and productivity of their operation will increase by benefiting from fast and precise searching, and retrieval of electronic documents due to standardized file naming policies. This facilitates collaboration amongst all team members needing to share and access common electronic files/images/documents. A filing policy plan is always essential, regardless of whether the enterprise plans to implement a manual document management strategy, or deploy a dedicated document management system. The new eXadox WIZard (http://exadox.com/en/exadox-wiz/overview) simplifies the filing policy planning process immensely.
Vincent Santaguida of MultiCIM Technologies states "As businesses migrate to paperless office practices, staff generally lack direction in terms of electronic file/document naming and storage policies. Each individual names and saves departmental files as they see fit. Therefore, there is hardly any consistency in how everyone names and stores electronic files. The end result can be disastrous, especially when having to search, retrieve, and reference mission-critical files. A minimum initiative is to institute standardized storage and file naming policies for each operational entity. We created the eXadox WIZard to make it easier for managers to start instituting best practices for file naming and storage. The productivity gain will help the bottom-line and help avoid costly omissions and errors" .
eXadox WIZ operates in a wizard-mode by automatically guiding the user through five simple steps to quickly build a unique filing policy plan. It also comes with ready-built filing policy templates to help expedite the planning process. Users may modify, mix and match several templates in order to build a unique filing policy profile that best satisfies their operational requirements. The plan import/export feature enables the planning team to collaborate in planning activities by taking advantage of everyone's contribution to more readily establish policy consensus.
eXadox WIZ is the first commercially available wizard dedicated to document naming/storage policy planning. Users may easily share the automatically generated HTML filing policy report-file because it is viewable via an Internet browser; it may be posted on the Web, attached to an email, or stored on disk. The resulting policy report describes precisely all the folder names and their hierarchy, the file naming convention, the required metadata, as well as all the valid input details for each of these elements. It can be used as an official filing policy report that all stakeholders in the organization can reference as a guideline for adherence to the instituted filing policy/convention. This functionality is quickly illustrated in a short eXadox demo video ( http://exadox.com/en/videos ).
Whether you are part of a small office or a large enterprise, your electronic documents are information assets that are extremely valuable and critical to your operation. eXadox WIZ will enable you to easily plan your filing policy for your electronic information assets so that everyone can benefit from the productivity gained by having properly named and stored files/images/documents.
eXadox WIZ runs under Windows XP/Vista/7, only costs $29.95(CDN) for a single-user license, and may be ordered securely online from http://www.exadox.com/. You can request to download a 10-day trial version from the same website .
NB: To the discretion of MultiCIM, any organization wishing to submit and share a useful filing policies may benefit from one free copy of eXadox WIZ.
For more information, contact MultiCIM Technologies Inc., 101-640 Bord du Lac., Dorval, Quebec H9S 2B6, Canada. Phone: 514-633-6401 Fax: 514-633-6495 Internet: http://www.exadox.com
Editorial Evaluation Copy Available on Request
About MultiCIM Technologies Inc.:
MultiCIM Technologies is a Canadian corporation founded in 1986 that develops software for business process improvement /automation and paperless office practices. It is the developer of the eXadox™ DT (DeskTop) and eXadox™ MSO (Microsoft Office plug-in) document management tools that take advantage of semi-automated file naming and storage as means of classifying, storing and retrieving electronic documents and images. It is also the developer of eXtractoFlex™, the automated data capture tool for capturing OCRd data from semi-structured forms (e.g. invoices, POs, shipping docs). For more information, visit http://www.exadox.com/
# # #