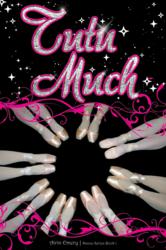 Our books reinforce the life lessons that children are getting from dance training
Victoria, British Columbia (PRWEB) May 11, 2011
Spurred on by reality television and high-octane dance shows, teens are looking to fiction to get their dance fix. Answering their call, Lechner Syndications announced today the publication of the first three novels in the Dance Series.
The series brings dance to life on the page, providing teen fiction in a genre that is dramatic, but still in touch with kids' lives. The series is written for pre-teens to teens and follows young dancers on their route to fulfilling their dance dreams.
"Our books reinforce the life lessons that children are getting from dance training," Co-founder and CEO Tammy Lechner said. "I have to admit that we had a personal motivator too – our daughter couldn't find page-turning dance books. We wanted to encourage her dance lessons, as well as her interest in reading, so we took matters into our own hands."
Following another top teen trend, all publications in the Dance Series are available in eBook format – ideal for active youth with its affordability and ease of access.
The first three books by Airin Emery include Tutu Much, Dance Divas and Tap In and are available for download on all major eReading devices including Kindle, Nook, iPad, Sony, and smartphones such as Blackberrys and Androids. The series is available at major distributors, including Amazon.com, Barnes & Noble, iBooks, Sony and Smashwords.
About Lechner Syndications
To ignite a passion for reading in children, Lechner Syndications goes right to the things that kids love - beginning with dance. The founders knew that if they focused on popular activities like dance, karate, soccer, and skating, they could help to motivate young readers, while strengthening the life-lessons that come from these activities. With their hip, fast-paced books and affordable, easy-to-access digital format, Lechner Syndications publications are ideal for teens.
###