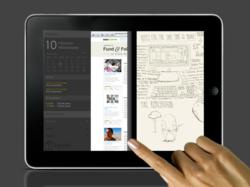 This seems to be one of the most anticipated applications I know of, and I can see why!
Seattle, WA (PRWEB) May 11, 2011
Taposé, an inevitable game changing tablet application, was recently successful in securing initial funding through Kickstarter.com to help its developers, Benjamin Monnig and Rick Drake, gain backing and support for the project. Kickstarter has helped projects such as Tik Tok + Luna Tik Watch Kits, Diaspora, and PadPivot gain immense popularity and backing. Taposé's founders have gladly seen their project to follow suit.
Taposé has quickly gained popularity and is now one of the most anticipated mobile applications for 2011. Taposé has even gained the respect of previous Microsoft Courier employees, as several are now part of the product team. With a strong team and remarkable passion, Taposé hopes to accomplish what Microsoft could not.
"It was an obvious decision to deliver such a superb product to tablet users. Over a year the Microsoft Courier was cancelled, and yet tech lovers still wish for the once promised functionality. We bring this creativity, productivity, and attractive user interface into Taposé as they coalesce into one outstanding product. The ingenious split interface design allows users to interact with multiple internal apps simultaneously in the company of Taposé collections. No mobile application to date has such functionality. It will be a definite game changer."
Not only does Taposé bring countless new and amazing functions, but the user experience increases dramatically with its visually pleasing user interface. Arguably, Taposé's best feature is its moveable middle bar which acts as a view separator, slider, and temporary storage holder. Moving images from a browser to a collection or from page to page, is now extremely easy and fun. Additionally, the slider allows users to adjust view sizes and easy switch between internal applications with a simple swipe.
Taposé will provide functions such as:
Split Interface Design:

Drag and drop from Safari
Drag addresses to Maps for directions
Drag contacts over collections to share
Finish calculations without leaving Tapose
Full screen capabilities
& much more
Middle Separation Bar:

Place images, sticky notes, maps, and more into the middle separation bar which acts as a temporary holder
Allows easy organization and movement between pages and collections
Adjusts view sizes and allows easy transition between applications
Collections:

Type write, draw, sketch, sticky notes, lists, images
Multiple paper types for every purpose
Easy organization and advanced search capabilities
Sync capabilities through Evernote and Dropbox
"With the help of Kickstarter pledges, we have gained the support needed to create Taposé for the tablet world. We are looking forward to bringing this innovative idea to market for everyone to enjoy," adds Benjamin Monnig. The initial goal is to launch Taposé for the iPad, with future releases for other Android tablet devices. Taposé is targeted to be in the hands of consumers by late summer.
Follow Taposé's progress at Kickstarter.com, where you can learn more about this exciting new project, and be one of the select few to help get it off to a roaring start.
###