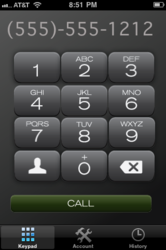 PhoneTap is the easiest way to record calls right from your iPhone.
Edmond, OK (PRWEB) May 13, 2011
Independent developer Clever Panda LLC today is pleased to announce the release of PhoneTap 1.3 for iPhone, which allows users to record outgoing phone calls right from their iPhone. While many competitive solutions require bulky external hardware or a monthly subscription, PhoneTap requires only an iPhone and is purely a software solution. PhoneTap is the easiest phone call recording app and is trusted by thousands of individuals and businesses throughout the US who need an accurate record of phone conversations.
Any iPhone owner can download the app and begin recording phone calls instantly. PhoneTap includes 20 free minutes of airtime and additional airtime can be purchased from within the application through the user's iTunes account.
PhoneTap 1.3 includes many performance and reliability enhancements that customers have been asking for. Version 1.3 fixes crashes, reduces dropped calls, and improves recording quality. Clever Panda LLC takes customer feedback very seriously and continuously incorporates customer comments to improve its products.
Feature Highlights:

Record outgoing phone calls
Share recordings via e-mail instantly
Accurate call logs and durations
Can show your caller ID on the recipient's phone; no need for a second number
Sleek, modern, and intuitive user interface
Integrates seamlessly with iPhone contacts
No bulky hardware or equipment required
Clever Panda LLC contracted with DrewCrawfordApps to develop PhoneTap. "PhoneTap represents an incredible engineering challenge because we not only had to deliver a great iPhone application, but also a scalable and reliable backend web and telephone infrastructure that thousands of users can rely on to record their calls," said Drew Crawford, lead developer. "Getting an app like this through Apple review is no small feat," he added.
Device Requirements:

iPhone 3G, 3GS, or iPhone 4
iOS 4.2 or later
0.5 MB
Pricing and Availability:
PhoneTap 1.0 is $0.99 for a limited time only, includes 20 minutes of airtime, and is available in the United States through the App Store in the Utilities category.
Clever Panda LLC is located in Edmond, OK, and creates and distributes new and innovative iOS applications.
Drew Crawford Apps is an independent contract iOS developer located in Austin, TX, and has developed over a dozen iPhone, iPod touch, and iPad applications.
Copyright (C) 2011 Clever Panda LLC. All Rights Reserved. Apple, the Apple logo, iPhone, iPod and iPad are registered trademarks of Apple Inc. in the U.S. and/or other countries.
###