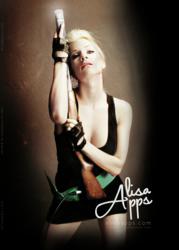 Los Angeles, CA (PRWEB) May 12, 2011
"What if you could manipulate people via music?" asks Los Angeles based recording artist Alisa Apps. After reviewing Lady Gaga's work, Ms. Apps has concluded that there is a simple six step process to such a thing.
"Here is the recipe" says Apps.
"Step One. Do psychological research on deep unconscious triggers.
"Step Two. Find a singer who can represent everybody, with bland looks and average talent.
"Step Three. Have this singer have no real identity and no real viewpoint so she can be any identity and have any viewpoint.
"Step Four. Get people to get the idea that freedom represents bringing out the worst in someone.
"Step Five. In each performance embed these triggers, be they religious, sexual or whatever. Have the singer be costumed and made up to the point that you don't actually see who she is. Have her sing melodies that have already proven popular with hypnotic lyrics and invitations to open you up to the dark side.
"Step Six. Your mind has been gloriously screwed with. You are glued to the video and under the spell. You chant with millions of others "She's the Greatest!""
"This is why Alisa Apps is challenging Lady Gaga; she is our champion, our Braveheart who dares to expose the trance you are in. Wake up world!" says her fans.
Alisa Apps whose videos have received more than 9 million views on YouTube is set to release her first album. Des larmes de sang (Tears of Red) is due out later this year. For more information on Alisa Apps as well as her trailer for her up- coming single "Soon You'll See", go to her website, AlisaApps.com
###