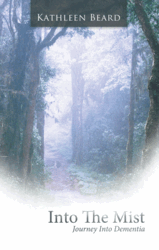 Prescott, AZ (PRWEB) May 12, 2011
Readers are invited on a journey of coping with the stresses and obstacles of losing a loved one to the haze and confusion of dementia and how one woman's faith in God plays a crucial role in keeping her grounded in Into The Mist: Journey Into Dementia (published by WestBow Press), the inspirational new nonfiction by Kathleen Beard.
According to the Alzheimer's Association, dementia accounts for an estimated 50 to 60 percent of the approximately 5.4 million cases of Alzheimer's disease in the United States. About five to eight percent of all Americans over age of 65 have some form of dementia, and this number doubles every five years. It is estimated that as many as half of people in their 80s suffer from dementia. With statistics like these, it's evident that most of us will be affected by dementia in some form at some point in life, and millions of spouses and family members will become caregivers to loved ones afflicted with the disease.
Into The Mist is Beard's intimate, personal account of watching her husband of 23 years lose his health, vibrancy and personality to dementia and how she struggled to cope with not just the physical challenges his condition presented externally, but the internal emotional and spiritual battles she fought. A devout Christian, Beard found herself questioning God and wavering in her faith. By fearlessly sharing her conflicts, her ultimate path to a stronger, more fulfilling relationship with Jesus Christ is revealed.
Ideal for caregivers struggling with their own commitment to God in the face of such a devastating illness, Into The Mist is culled from four year's worth of Beard's journals and emerges as a practical guide to spiritual and emotional healing. Rather than follow a strict beginning, middle and end approach, Beard's philosophy is instead one of looking at life and faith as a continuous walk that always offers new insight. With its conversational style, candid detail and uplifting affirmations, Into The Mist sets itself apart and presents a much-needed approach to coping with dementia.
About the Author
Kathleen Beard has been leading Bible studies for women and young people for nearly 20 years and has spoken at retreats and conferences in the United States and Honduras. In 1992, she founded the Intercessors for Prescott prayer group and has been active in numerous ministries throughout the years, helping many women through her ministry work in teaching and mentoring women in the U.S., Honduras and Israel. Beard is currently available for speaking engagements at women's conferences and ministries. Into The Mist is her first book.
WestBow Press is a strategic self-publishing alliance of Thomas Nelson, the world's premier Christian publisher, and Author Solutions, Inc. (ASI)—the world leader in the fastest-growing segment of publishing. For more information, visit http://www.westbowpress.com.
###