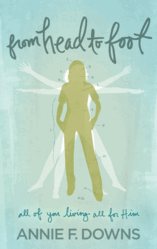 Nashville, TN (PRWEB) May 12, 2011
According to a 2011 study conducted by the National Institute on Media and the Family, 78 percent of 17-year-old girls feel unhappy with their bodies, a number that reflects a disturbing trend of negative body image, particularly among females. Author and blogger Annie F. Downs has taken action, determined to change the disparity between how young women see themselves and how God sees them with her new book, From Head to Foot: All of you living for Him (published by WestBow Press).
More than just a devotional or memoir, From Head to Foot is a comprehensive lifestyle guide designed to energize and mobilize Christians eager to live a life of purpose but unsure about where to begin. According to Downs, the first step is recognizing that the body is an instrument provided by God and that He has a specific plan and purpose for each person. Learning to accept and love one's body is essential before any other progress can be made. Downs speaks from the heart, particularly to high school and college-age females, about the daunting challenges they face in today's appearance-obsessed culture.
From Head to Foot is filled with practical advice about glorifying God in everyday life using all parts of the body. Staying true to a scriptural basis throughout, the book challenges and motivates with a series of questions, anecdotes and tips for improving emotional and physical health. Downs even includes tasty recipes that will nourish body and soul.
Advance praise for From Head to Foot:
"…This book will touch your heart, encourage you, and challenge you to let your Heavenly Father pursue you as His daughter. Let Him. Let your whole body glorify Him."
—Hillary Scott, lead singer, Lady Antebellum
"Annie Downs brings fun to everything she touches. Her honesty is refreshing and her humorous way of looking at life will help you laugh at yourself and learn from your mistakes…"
—Shannon Primicerio, author, The Divine Dance, God Called a Girl, TrueLife Bible Study series
About the Author
Annie F. Downs has been telling stories since she was a child growing up near Atlanta. She received her bachelor's degree in early childhood education and currently resides in Nashville, Tenn., where she works as a freelance writer. In addition to publishing numerous Bible studies and articles, Downs blogs daily and contributes to various publications. For more information, visit http://www.annieblogs.com.
WestBow Press is a strategic self-publishing alliance of Thomas Nelson, the world's premier Christian publisher, and Author Solutions, Inc. (ASI)—the world leader in the fastest-growing segment of publishing. For more information, visit http://www.westbowpress.com.
###