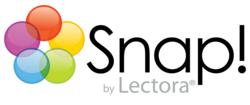 In addition to extreme ease-of-use, Snap! by Lectora also provides seamless integration with social media
Cincinnati, Ohio (PRWEB) May 11, 2011
$99 changes the game as as Snap! by Lectora® redefines affordable rapid eLearning and leads the market at a fraction of the competitors' costs. Today, Trivantis® Corporation, provider of world-class publishing technologies and services for multimedia eLearning, announced the groundbreaking release of Snap! by Lectora, the revolutionary rapid eLearning software and PowerPoint presentation plug-in that annihilates Articulate® Studio Standard and Adobe® Presenter prices.
PowerPoint plug-in technology makes it easy for people to create eLearning content. Snap! by Lectora makes it easier than ever with a $99 price that eliminates the cost barrier and enables anyone to join the eLearning community. As Peter Bray, Chief Marketing Officer at Trivantis, explains, "Based on our eLearning heritage, we were able to create a feature-packed software product that is far less expensive than the competition. Why spend $999 or $500 for software that now costs $99? With Snap! by Lectora, the choice is clear."
Snap! by Lectora empowers both novice and expert users to transform basic PowerPoint presentations into brilliant, interactive Flash masterpieces in minutes without the hefty cost. With the simple click of a button, Snap! by Lectora enables you to:

Make your presentations come to life: Turn a simple PowerPoint presentation into an engaging Flash masterpiece in minutes. Add sizzle with audio, video and images.
Create truly rapid eLearning: This easy-to-use and intuitive eLearning software comes equipped with courses full of interactive quizzes and engaging surveys.
Share content with anyone, anywhere: Want your colleagues across the globe to review your eLearning course? Want to share your PowerPoint presentation with your friend who works remote? No problem, just upload it to SnapChannel.com.
Not only does Snap! by Lectora win with price superiority, but it also allows users to share content absolutely free on Snap! Live and SnapChannel.com. Content creators can publish content directly from Snap! by Lectora to Snap! Live and receive a unique URL to share eLearning courses or presentations privately. SnapChannel.com provides a free destination to connect socially and share unlimited presentations, videos, and Flash content worldwide.
"In addition to extreme ease-of-use, Snap! by Lectora also provides seamless integration with social media," said John Blackmon, Senior Vice President of Authoring Products. "This takes online multimedia and social interaction to a whole new level for all types of users."
To maximize rapid eLearning potential for users, product support and technical resources must be innovative, accessible, and most importantly: affordable. Snap! by Lectora has all of these advantages and beats out Articulate® again with a mere $99 annual Support cost compared to the $399 price Articulate® charges for Support.
About Trivantis Corporation
Trivantis Corporation produces Lectora®, the world's leading e-Learning software, used by most Global 2000 companies. Lectora is sold in over 70 countries and is offered in six languages. Trivantis Corporation also develops CourseMill learning management system and provides Custom Development Services. The latest release by Trivantis includes Snap! by Lectora, easy-to-use PowerPoint plug-in e-Learning software that rapidly converts PowerPoint to Flash. Headquartered in Cincinnati, Ohio, Trivantis Corporation also has offices in Boca Raton, Paris, London and Beijing. Website: Trivantis.com. Trivantis, Lectora and CourseMill are trademarks of Trivantis Corporation.
Facebook: facebook.com/Trivantis
Twitter: twitter.com/lectora
RSS: feeds.feedburner.com/TrivantisBlogs
Lectora is a registered trademark of Trivantis Corporation. PowerPoint is a registered trademark of Microsoft Corporation. Adobe Presenter is a registered trademark of Adobe Systems Incorporated. Articulate Studio Standard is a registered trademark of Articulate Global Inc. All other names may be trademarks of their respective owners. Copyright © 2011 Trivantis Corporation Inc. All rights reserved.
###