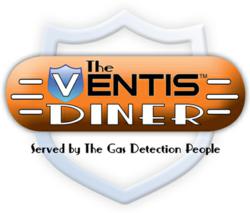 Gas detection users globally have quickly grown a strong appetite for the newest Industrial Scientific multi-gas detector.
Pittsburgh, PA (PRWEB) May 11, 2011
Following the launch of the Ventis MX4 multi-gas detector, Industrial Scientific will launch "The Ventis Diner" campaign at the American Industrial Hygiene Conference & Exposition (AIHce) in Portland, Ore., on Monday, May 16.
Industrial Scientific's booth (# 1835) will be transformed into "The Ventis Diner" as music from the '50s and '60s plays in the background, and visitors are served ice cream and sorbet by the diner's staff. Booth personnel will also be ready to discuss the latest products and solutions from Industrial Scientific, the global leader in gas detection, including the recently launched Ventis.
Gas detection users globally have quickly grown a strong appetite for the newest Industrial Scientific multi-gas detector. It is a lightweight, highly configurable instrument that is available with or without an integral pump and is compatible with iNet™ – Industrial Scientific's unique Gas Detection as a Service solution.
Also at the conference, Dave Wagner, director of product knowledge at Industrial Scientific, will speak at a symposium titled "Conquering Industrial Hygiene Problems with the Use of Real-Time Monitors." On Sunday, May 15 at 8:45 a.m. in Room 252, Wagner will present "The Do's and Don'ts of Real-Time Detection Instrumentation Calibration."
More than 5,000 industrial hygiene and safety professionals are expected in Portland for several days of education and networking. The conference and exposition runs through Thursday, May 19.
About Industrial Scientific Corporation
Industrial Scientific Corporation is the world's leading provider of Gas Detection as a Service. With more than 850 people working in 18 countries, Industrial Scientific is dedicated to eliminating death on the job in this century. Achieving this goal requires dedication to delivering highest quality and best customer service in all transactions. Industrial Scientific also focuses on providing analysis of data from equipment use and maintenance to identify problems before they happen. Industrial Scientific has operations based in Pittsburgh (USA), Arras (France), Dortmund (Germany) and Shanghai (China). The company provides technical services to customers from local service centers around the world, and has additional offices in Australia, Bahrain, Brazil, Canada, Czech Republic, India, Indonesia, Mexico, Netherlands, Qatar, Saudi Arabia, Singapore, United Arab Emirates and the United Kingdom. Industrial Scientific is the parent company to Oldham (http://www.oldhamgas.com) and Predictive Solutions Corporation (http://www.predictivesolutions.com). For more information, visit http://www.indsci.com.
###