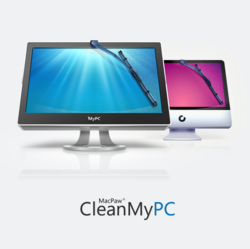 Keeps your computer running right.
Kyiv, Ukraine (PRWEB) May 12, 2011
MacPaw Inc. has successfully launched a new Windows version of its award winning cleaning and maintenance software for Mac OS - CleanMyMac.
CleanMyPC, the long-awaited "brother" of a well-known Mac utility went live at noon, May 12th, 2011.
CleanMyPC is a new sophisticated software for Windows that is developed with the main objective of keeping a computer running right. It is designed in the most delicate way with an easy-to-use and user-friendly interface. Usually a beauty is skin deep but not in the essence of CleanMyPC. The elegance with which this utility is developed may not draw its users into misleading conclusions. Behind the ease that is first seen when launching CleanMyPC stands a very powerful and reliable utility that knows perfectly how to secure and successfully sustain its computer system.
CleanMyPC is compatible with Windows XP, Vista or Windows 7 and performs great job no matter how old a computer system is and how many applications were previously installed. This cleaning and maintenance utility it is settled to ensure sensitive data protection and its proven algorithm is designed to avoid personal or crucial system files removal ensuring documents and settings for the applications at use remain intact.
CleanMyPC's testers were able to recover an average of 5 GB per computer by removing unnecessary files, junk and caches as well as achieving 10% to 15% speedup after using CleanMyPC.
A set of CleanMyPC's built-in utilities that will make a computer run right, fast, clean and working like new:

Scan - CleanMyPC analyzes the hard drive to find files which might be safely removed. They are split into four categories that can be found on the left - "Caches & Logs", "Help Files", "Extra Languages" and "Trash & Junk". Note, after the scan CleanMyPC awaits for the "Clean" button to be pushed so to begin the clean.
Secure Erase - when removing files to and from Recycle Bin they can still be brought back by third party data recovery software. Yet sometimes it is needed to remove files for good - and this is where CleanMyPC's "Secure Erase" will come to help. Files and folders removed with "Secure Erase" cannot be recovered. This is achieved by rewriting files with zeroes ("zero-out") multiple times before permanently removing them from the hard drive.
Registry Maintenance - windows registry is a database that stores configuration settings and options for the Windows itself and all installed applications. Since registry is read and written by all the installed applications at the same time, as well as malware and spyware programs registry sometimes becomes cluttered or partially corrupted. This cannot be fixed manually (unless you have deep technical knowledge and experience) and we advice to let CleanMyPC's registry maintenance utility to take care of your registry.
Autorun - while launching applications automatically with Windows is convenient some applications might do that without your knowledge and you might want to prevent them from automatically running. Removing applications from autorun manually is usually not convenient and sometimes beyond your control - Windows stores autorun data in a few places and location specific application might be tricky. CleanMyPC collects all applications which start with Windows into one simple interface - simply hover any application and click "Disable" button to prevent it from starting with Windows. You can reenable it again in the same manner.
Gadgets and Extension Manager - Windows (and some applications) install different Gadgets and Extensions into your system. While some applications provide you with the removal options sometimes you don't have an option to remove those you don't need (which is especially valid for default Windows gadgets and extensions).
This is what one of the testers said about CleanMyPC:
"A must-have utility for every PC user. A flawless interface design, program structure and set of features. I absolutely rely on this utility in keeping my computer safe and sound."
MacPaw Inc.
MacPaw, Inc., located in Kyiv, Ukraine, is a software development company founded by Oleksandr Kosovan, specializing in applications and utilities for Mac OS X. With fewer than a dozen employees, most under 30 years old, the company is a small group of people passionate about software, design, and innovation. MacPaw is dedicated to serving the needs of its customers, and carefully reviews all user feedback. Adhering scrupulously to the design principles exemplified by Apple's own applications, the company aims to create software that is simpler, more user friendly, more flexible, more functional, and more valuable than ever before. Copyright (C) 2010 MacPaw, Inc. All Rights Reserved. Apple, the Apple logo, Macintosh and Mac OS X are registered trademarks of Apple Inc. in the U.S. and/or other countries.
CleanMyMac is an extremely easy-to-use and beautifully crafted, it is the ultimate tool for keeping Macintosh hard drives clean, lean, and in tip-top operating condition. CleanMyMac quickly and simply maintains caches, log files, language files, and much more, keeping them clean and trouble-free while providing the user intuitive control over the entire cleaning process. Moreover, CleanMyMac doesn't just clean unnecessary, unwanted, damaged, and corrupt files from a user's Macintosh, but restores large amounts of valuable hard drive space in the process.
# # #