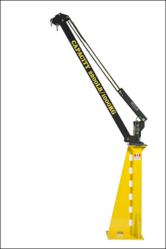 Fort Erie, Ontario (PRWEB) May 12, 2011
Easily Moved Equipment Inc. continues to set records for maintenance lifting equipment for Water and Wastewater markets with the introduction of their new Gen II Davit Cranes. The new Gen II aluminum Davits are lighter, stronger and easier to rotate than previous models.
The Gen II Davit models have been in development for almost a year. The Company has done well with the previous Davit models - the 1100 Series which weighed just 40 lbs (18 kg) and the 2200 Series which weighed 54 lbs (25 kg). "With Operator safety being our first priority, we are continually looking for improvements in our equipment; working with the Operators, we have produced the new Gen II 1000 Series which weighs only 34 lbs (15 kg) and the Gen II 2200 Series which weighs only 44 lbs (20 kg)", stated Mike Flynn, North American Sales Manager. "Not only are the weights of these two models lighter, but they are stronger and rotate better under load than any previous Davit Cranes. Both Series are available for use with either Manual or Electric Chain Hoists or Winches.
eme has manufactured the 1100 Series since 2003, the 2200 Series (world's first 1-tonne aluminum Davit) since 2005 and the extended-radius 3300 Series since 2006 (world's first extended-reach, aluminum 1-tonne capacity at 72 in (1.83 m). The new eme Gen II Davit Cranes are Engineer-certified to a system minimum 2:1 safety factor and we believe that they are the world's lightest Davits."
All eme Davits and their Bases are made in Canada, are constructed from all-North American components, are factory tested to 150 percent of the rated load, include a Certificate of Test, Engineer-stamped drawings and carry an industry-leading 10-year Warranty.
# # #