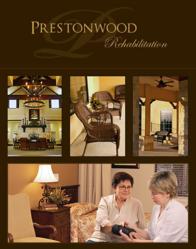 Prestonwood Rehabilitation and Nursing Center, located in West Plano, Texas, provides inpatient and outpatient physical therapy services.
Plano, TX (PRWEB) May 17, 2011
Prestonwood Rehabilitation and Nursing Center, providing skilled nursing and physical therapy services, is proud to announce the launch of their new website. The new look is rich and modern, allowing the visitor to experience the warmth and hospitality of the staff and physical location. The new website offers visitors a glimpse into physical rehabilitation and skilled nursing services. A Photo Tour highlights both the common areas and private rooms. Current residents may also view the many planned activities on the site's Events Calendar.
Prestonwood Rehab offers rehabilitation services that include physical, occupational and speech therapy. Their skilled nursing staff is available 24 hours a day to provide ongoing evaluation and care to ensure the patient's fullest recovery.
Recognizing that staying active and eating well is important to a patient's recovery, Prestonwood Rehabilitation offers healthy and flavorful meals, a full-service salon and many social and recreational activities.
The staff at Prestonwood Rehab seeks to enable their seniors to live as independently as possible, while recognizing that the importance of freedom and dignity does not diminish with age.
Company Information
Prestonwood Rehabilitation and Nursing Center is a locally-owned and operated skilled nursing facility located in West Plano, just minutes from Carrollton, Lewisville, Frisco and North Dallas. The center is licensed by the State of Texas and certified to participate in both the Medicare and Medicaid programs. The core management team has worked together for years, and has decades of experience in providing compassionate health care to seniors.
# # #