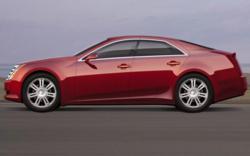 Matteson, Illinois (PRWEB) May 12, 2011
Cadillac and Sony Music have teamed up to auction off a Justin Bieber prize package to benefit Cure Duchenne, a non-profit group that funds research and awareness of Duchenne, which is the most common muscle disease in children.
Fans of the teen music sensation can bid on a trip for two to see pop singer Justin Bieber in concert at select locations around the world. The winner will receive a copy of the new album, "Never Say never- The Remixes," as well.
The auction began on April 25 and will last until May 1. There are promotions in a series of advertisements on Clear Channel radio stations and Sirius/XM Satellite Radio.
"Once again, Cadillac's marketing team has come up with a unique way to massively increase public awareness about Duchenne, the most common progressive muscle disease to affect children worldwide," said Cure Duchenne advocate Mindy Cameron. "Cure Duchenne is honored and thankful for Cadillac's continued support in the battle to find treatments and cures for this devastating condition."
Last year, Cadillac became a supporter of Cure Duchenne. They produced a public statement about Duchenne and auctioned off Super Bowl ticket packages to benefit the Newport Beach, California based charity.
Arnie Bauer Cadillac GMC Buick in Matteson, Illinois is proud of Cadillac and the support that they offer to various charities throughout the world. Arnie Bauer sells Cadillac GMC and Buick vehicles and offers a great selection of used vehicles as well. Arnie Bauer is located in Matteson, Illinoi and is less than and hour away from the city of Chicago.
###