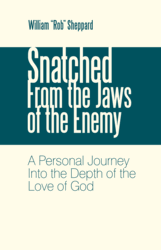 "My belief is that religion, any religion, can be detrimental to really knowing God," says Sheppard. "When they view the Christian world today, most non-believers look at the chaos they are greeted with and there is not much that is attractive."
Fort Worth, TX (PRWEB) May 16, 2011
Is the true purpose of religion being clouded by denominations and separate churches? Dr. William Sheppard says it is.
Inspired to share his personal journey toward faith and knowing God, Sheppard wrote Snatched From the Jaws of the Enemy. Intimately revealing his personal struggles while searching for meaning in his life, he aims to address what he sees as the world's cry for a source of peace in the complexity of life.
"My belief is that religion, any religion, can be detrimental to really knowing God," says Sheppard. "When they view the Christian world today, most non-believers look at the chaos they are greeted with and there is not much that is attractive."
The chaos Sheppard refers to is the multitude of beliefs and churches that ultimately separate God and his people, each stating that their way is the only way to Him. Snatched From the Jaws of the Enemy aims to provide readers a clear message despite the prevalence of worldly religious "fluff."
"I find that most of what religion has to say is so abstract, sometimes confusing, and often means nothing to most," says Sheppard. "I hope that my journey will offer readers the missing element."
For more information, visit http://www.knowinggodministry.com.
About the author
William Sheppard spent 13 years as a professor of theology and practical religion, serving as chairman of a university theology department for eight years. Additionally, he has spent seven years as a pastor.
Sheppard holds a master's degree in marriage and family counseling, two professional counseling licenses and a doctorate of ministry. He and his wife hold weekend seminars at churches across the country through the Knowing God Ministry. He resides with his family in Fort Worth, Texas.
Contact:
Jessica Kiefer
Tel: 317.602.7137
Fax: 317.536.3775
Email: jkiefer@bohlsenpr.com
(When requesting a review copy, please provide a street address.)
###