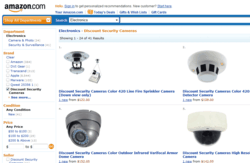 Selling on Amazon is completely compatible with our marketing strategy and message.
Jacksonville, FL (PRWEB) May 11, 2011
In May 2011, Discount Security Cameras (DSC) began offering several of their security camera and camera recording products on the Amazon website. Amazon is one of the most trusted brands on the internet and the largest online retail site in the world. Discount Security Cameras has been in business for over 10 years and is one of the most trusted brands of security camera products in the US. Offering DSC products on Amazon is a win for both companies.
"Selling on Amazon is completely compatible with our marketing strategy and message. Amazon stands behind their products and services and so do we. " says Maureen Page, DSC's VP of Web Development.
DSC is offering their security cameras, complete camera systems, and security digital video recorders (DVRs) for sale on the Amazon site. All of security cameras that they offer on Amazon come automatically bundled with everything you need to connect up the cameras including cable, connectors, and power supply.
"Not all customers are CCTV savvy and may not know exactly what they need to set up their cameras. We want happy Amazon customers so we bundle everything you need with each camera. How unhappy would you be if you purchased a camera but then realized that it didn't come with the power supply to plug it into the wall? Unfortunately, that's how some suppliers keep their offer prices low", says Page.
Getting the products set up on the Amazon selling platform is relatively straightforward. Amazon provides tools such as bulk data uploads to make the process easier. The bigger challenge is structuring the product data and building up customer reviews and ratings so the Amazon engine will display the products. Amazon appears to promote their most established 'Top Brands' in their product results which can make it more difficult for new vendors to get visibility.
"It's like creating a new website. Creating the website is relatively easy. Getting your site to show up in the web search results is the hard part." says Page. "Some of the security products that other companies offer on Amazon are lower quality and the prices are very low. Yet, price is often the primary sort criteria people use when searching on Amazon. DSC is exploring ways to educate the consumer about the quality of product so people know what they are paying for."
The quality of security cameras and recorders varies according to several factors. One factor is the quality of the components that go into the camera: the chip, the lens, the infrared light-emitting diodes (LEDs). Another major factor is the quality of the housing material (plastic vs. aluminum for example) and the general design and construction of the camera. The quality of security cameras available on the market today varies widely.
About Discount Security Cameras
Discount Security Cameras is an industry leader in professional security cameras, security camera systems and video surveillance systems for business and home owners. Be sure to check out their new Interactive Security Camera Learning Center. Call toll free at 1-866-301-7680.
###