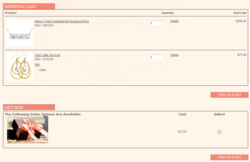 "We absolutely love when it is easier to serve and meet our customers' needs."
St. Louis, MO (PRWEB) May 12, 2011
Jp style, llc (DBA Jenny Present), a St. Louis-based custom jewelry designer, is known for her signature chocolate brown boxes. And thanks to a new e-commerce site, designed and search engine optimized by The Net Impact, it is easier to sell and ship those brown boxes to fashion-savvy customers. This new e-commerce site provides Jenny Present customers with an online shopping cart and the ability to submit orders 24 hours a day. Jenny Present and The Net Impact worked closely with AspDotNetStorefront to revamp the jewelry designer's e-commerce capabilities.
"I'm thrilled," says Jenny Present, owner of jp style. "It's like we're open for business 24/7, and it will have such a positive impact on our customer service and product awareness. We absolutely love when it is easier to serve and meet our customers' needs."
Jenny Present fills orders from Melbourne to Seattle, and it's not always easy to serve her many customers and wholesalers. In addition to building out an easy-to-navigate, search optimized website with e-commerce capabilities, The Net Impact has also added a wholesale customer level to the site.
"Our goal was to make the Jenny Present website incredibly 'shoppable' for any type of customer. Our designers worked very hard to give http://www.jennypresent.com the soft and elegant look that mimics the product, but also create really sophisticated customization behind the design's glamour. We couldn't be more pleased with the end result." Mandy Christanell, Lead Project Manager for The Net Impact.
About The Net Impact®
The Net Impact, an Internet marketing and web development and design firm, is a division of Unidev®. Since 1997, The Net Impact has been a web development leader empowering clients with highly creative search engine friendly websites. Professional services encompass search engine and Internet marketing solutions, Internet strategy development, training and seminars and web design. For more information on The Net Impact, please visit http://www.thenetimpact.com or call (636) -787-7800.
About Jenny Present
Jenny Present, following a lifelong passion, began designing jewelry as jp style, llc in 2008. Jenny Present jewelry is handmade from start to finish; each piece is meticulously designed, created and polished to perfection. Her jewelry retails in Saint Louis at Pulse, Dotdotdash, City Sprouts and Bella Bridesmaids and she sells her pieces to customers all over the world from the Jenny Present website. For more inquiries or to purchase your very own custom piece, visit http://www.jennypresent.com or call (314)-315-2204.
# # #