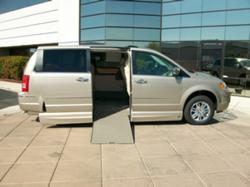 Elevating Your Quality of Life
San Diego, CA (PRWEB) May 12, 2011
The Ability Center, not content to merely offer incentives, is now helping its customers to locate various incentives for its new 2010 line of wheelchair vans. The company has announced multiple opportunities for savings at its Handicap Van Financing Department.
The Ability Center, headquartered in San Diego, California but with six locations throughout the United States, states that it "takes the fuss out of financing" by providing the rates, terms, manufacturer offers, and incentives that can help reduce the total cost of handicap vans.
The company helps disabled consumers locate such incentives and savings as doctor's prescriptions, Disabled Veterans Program, Medicare coverage, insurance company or worker's compensation policies, tax credits, and programs from the Department of Vocational Rehabilitation. The company works with customers by clarifying and defining all available financing options with incentives, and even helps finish and submit paperwork required by financing companies.
The Ability Center serves customers in three states; California, Arizona and Nevada. The company continues to expand its business, all the while balancing technological advances with attentive and compassionate customer service. "Disabilities are often complicated and change with time, necessitating future evaluations and study," says founder Darrell Heath. "A relationship of understanding is [important] for finding the solutions to the problem a disability can present."
The Ability Center is now offering a large inventory of wheelchair vans and wheelchair lifts, including new models like the 2010 Chrysler Town & Country Touring Minivan, the 2010 Honda Odyssey, and the 2009 Toyota Sienna. The company also offers some of the most advanced technology from Bruno, a manufacturer of wheelchair lifts.
The Ability Center's motto is "Elevating Your Quality of Life", and its flexible and customer-first financing options reflect this humanistic theme.
For more information on wheelchair vans, visit http://www.AbilityCenter.com/.
About Ability Center: Ability Center was founded in 1994 and now has six locations and 70 employees. The company serves over 10,000 mobility customers every year. Founder Darrell Heath worked as a van converter for handicap vans and has been at the heart of this burgeoning industry ever since.
###