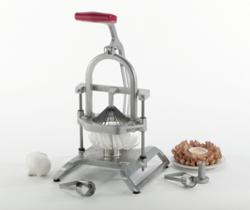 the easy way to produce a low cost but attractive dish
(PRWEB UK) 13 May 2011
InstaBloom– Bloomin' Marvellous Appetisers
Foodservice Equipment Marketing has launched a new manual food prep machine for creating a low cost appetiser to increase profits.
Creating a perfect mouth-watering appetiser that looks and tastes good is important for caterers and restaurants. Crispy onion blooms are becoming a popular starter on many menus. But preparing this dish using a knife takes time and is not always accurate or safe. Foodservice Equipment Marketing (FEM) has launched the InstaBloom that makes onion flowers four times faster than manually using a knife.
With a simple one-step operation the Vollrath InstaBloom creates 24 beautifully cut segments. As the caterer is sure that they will get the same perfect onion flowers every time, preparation is speeded up, quality improved and the appearance of the finished serving enhanced.
Once the onion flower is created, a delicate yet delicious onion bloom can be served by simply breading and then deep-frying the cut onion. This is an easy way to produce a low cost but attractive dish that can command a premium price.
FEM's InstaBloom is made from the finest duty cast aluminium, with stainless steel blades providing fast and accurate cuts. The InstaBloom is durable and designed for maintenance-free operation and ease of cleaning.
Other Vollrath food preparation equipment supplied by FEM includes the Onion King, Lettuce King I-IV, CubeKing and Cheese Blocker.
For more information and details of local stockists call FEM on +44 (0) 1355 244111, email sales(at)fem(dot)co(dot)uk or visit http://www.fem.co.uk
Vollrath InstaBloom – May-11
Press Enquiries:
Toni Turner or Alison Haynes at The Publicity Works: 01263 761000; Email: fem(at)publicityworks(dot)biz
For more news about FEM visit the press office at http://www.publicityworks.biz
Mark Hogan, Marketing Manager, Foodservice Equipment Marketing Ltd, +44 (0) 1355 244111
DIGITAL PHOTOS AND INFORMATION ARE AVAILABLE ON REQUEST FROM THE PUBLICITY WORKS
More information on FEM from http://www.fem.co.uk
Separations charge enquiries: offers can only be accepted by fax on 01263 761009 or by email to seps(at)publicityworks(dot)biz.
All offers are considered. We will call you if the answer is 'yes'. Otherwise the answer is, regrettably, 'No'.
Foodservice Equipment Marketing Ltd
Foodservice Equipment Marketing Ltd (FEM) is based in East Kilbride near Glasgow, Scotland. Since 1993 the company has represented leading foodservice equipment manufacturers in the UK and Irish markets. Over the years FEM has established partnership agreements with many of the industry's top brands in both smallwares and equipment, including Vollrath, Manitowoc Ice, Cambro, Sirman, Prince Castle, San Jamar and Hamilton Beach. In 2003 FEM moved into manufacturing when it acquired Wardpark Gardner.
###