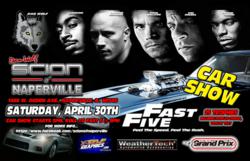 Naperville, IL (PRWEB) May 13, 2011
Dan Wolf Toyota and Scion of Naperville hosted an event on Saturday April 30, 2011. The event included a large car show, with games and prizes and visitors were able to vote for the trophy winner via text messages. The main event featured a free movie showing of the film, Fast Five, where Dan Wolf Toyota transported guests down to the local theater.
The event was open to the public and was hosted by Toyota of Naperville's very own, DJ Russ Harris. Sponsors of the event included, but were not limited to, Melrose Grand Prix, Weathertech.com and Xtreme Graphics, as well as the Dan Wolf Auto Group.
There were 300 tickets reserved for people to watch the Fast Five movie for free. Fans reserved their tickets by logging into Facebook and "Liking" the Toyota or Scion of Naperville Facebook Page. After "Liking" the page their event ticket was saved. Keep looking for more details on the Toyota of Naperville and Scion of Naperville Facebook pages for more events in the future.
Fast Five is the fifth movie in the Fast and the Furious series of films. The film is directed by Justin Lin, and features film stars such as Paul Walker, Vin Diesel and Dwayne "the Rock" Johnson.
Toyota of Naperville in Naperville, Illinois was pleased and excited to bring this event to the public. Dan Wolf Toyota of Naperville is the largest Toyota dealership in Illinois and has the largest inventory of vehicles in the Midwest.
###