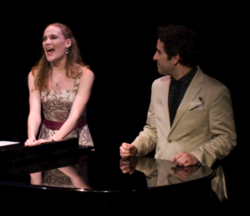 My Way leads the audience on an immersive journey into music that stands the test of time—the songs that conjure up the love, romance, and passion of Sinatra and the century he symbolizes.
Annapolis, MD (PRWEB) May 17, 2011
Infinity Theatre Company brings professional singers and musicians to perform an evening of the greatest songs of the twentieth century, in the Annapolis premiere of "My Way, A Musical Tribute to FRANK SINATRA", which is a favorite of the biggest regional theatres across the country.
Infinity Theatre Company previewed the show in Manhattan in March as a benefit performance in which the show received a standing ovation. As part of its mission to enrich Annapolis with professional New York City theatre, Infinity is importing the show, starring four singers and a three-piece jazz band. Infinity Theatre Company was founded by producers Alan Ostroff and Anna Roberts Ostroff, who is an Annapolis native.
"My Way" is full of Sinatra's most popular songs, such as: "The Way You Look Tonight", "I Get a Kick Out of You", and "Fly Me to the Moon". It was conceived by David Grapes and Todd Olson, with a book by Todd Olson. The piece contains many themed medleys with over fifty songs by composing luminaries like Harold Arlen, Sammy Cahn, and Johnny Mercer. The medleys include Frank's Favorites Medley, the Summer Medley, the Moon Medley, and the Survivor's Medley. These medleys lead the audience on an immersive journey into music that stands the test of time—the songs that conjure up the love, romance, and passion of Sinatra and the century he symbolizes. "My Way" flows between music and the stories that made Sinatra an icon professionally and personally. The show ends with the dramatic title song "My Way", one of many stirring close harmony pieces between the singers.
"My Way" clarifies the legend of Frank Sinatra for all generations, allowing the people who grew up listening to his music and watching his TV specials and film performances to share it with their children and grandchildren.
For the performers, Mr. and Mrs. Ostroff will be playing the younger of two couples, representing Frank's early years of crooning with Tommy Dorsey's band. They played the leads in Infinity's 2010 production of the off-Broadway classic "The Fantasticks", after years of playing roles in theatres around the country and in New York.
Infinity found its stars for "My Way" in veteran performers Joseph Dellger and Mary Jo Mecca, who represent Frank's swingin' sixties Rat Pack era. Mr. Dellger has performed on Broadway, as Magnus/Marquis de Lioncourt in "Lestat", the show based on Anne Rice's "The Vampire Chronicles" with music by Elton John, as well as in "Ragtime", in which he played one of the lead roles, Father. Mr. Dellger also performed in several national tours of Broadway productions, including "The Phantom of the Opera", in which he understudied and frequently performed the Phantom. Ms. Mecca has a long resume from both stage and screen. She has worked at regional houses across the country, including the Guthrie Theater, Alabama Shakespeare Festival, Alley Theater, Pasadena Playhouse, Walnut Street Theatre, and Goodspeed. Ms. Mecca has performed in several world premiere productions, such as Frank Wildhorn's "Jekyll and Hyde" and "Blocks", a musical by Jonathan Larson, the creator of "Rent". Some of Ms. Mecca's screen credits are "Law and Order", "Frasier", "Guiding Light", and the Disney feature film "Holes".
The band of "My Way" is led by David Libby, a pianist who played in the orchestra for Broadway tours of "Beauty and the Beast" and "Kiss Me Kate". Mr. Libby is also the Musical Director of "My Way", and was Musical Director of Infinity's production of "The Fantasticks". Stephen Palko is on upright bass, and has played for tours with Ringling Bros. Barnum & Bailey Circus and "Menopause the Musical". Gary Tillman is the percussionist and has played the Broadway productions of "Les Miserables", "Mamma Mia!", "Sunset Boulevard", "Miss Saigon", "Cabaret", and many others. For the final two weeks of the run of "My Way", the pianist is Mary Sugar, whose Broadway national tours include Monty Python's "Spamalot", "Sweet Charity" with Molly Ringwald, "Peter Pan" with Cathy Rigby, and "The Producers". Ms. Sugar was also conductor/pianist for Leslie Uggams.
"My Way" is directed by Matthew Schneider, costume design by Tilly Grimes, set design by Caite Hevner, lighting design by Anshu Bhatia, and sound design by Wes Shippee.
"My Way, A Musical Tribute to FRANK SINATRA" runs from June 16 – July 10 on:
Thursdays at 8:00
Fridays at 8:00
Saturdays at 2:00 and 8:00
Sundays at 2:00
Infinity Theatre Company at the Children's Theatre of Annapolis
1661 Bay Head Rd.
Annapolis, MD 21409
Prices range from $18 - $35, with a 20% discount if tickets to "My Way" are also purchased with tickets to Infinity's second mainstage show, "Little Shop of Horrors". Infinity donates a portion of all ticket sales to the non-profit Children's Theatre of Annapolis. To purchase tickets, go to infinitytheatrecompany.com or call 877-501-8499. Senior, child, and group rates are available, as well as dinner/lunch and show packages with our partner Broadneck Grill.
For more information on Infinity Theatre Company please contact Alan or Anna Ostroff or visit InfinityTheatreCompany.com.
# # #