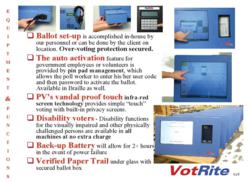 Voting with Technology
Mineola, NY (PRWEB) May 12, 2011
VotRite and Honest Ballot Association, (HBA) both woman owned businesses, have created an electronic voting experience for the private voting sector in the United States.
Antonia Rollandi, Managing Partner of VotRite, said, "By bringing together VotRite's new Touch screen Electronic Voting equipment with the expertise of HBA's experience in conducting private elections, we are creating a new industry-leading voting experience in the private sector of this country.
Talin Puskul, Sales Director of VotRite added, this joint venture is an important step forward in our effort to educate the public on electronic secured voting, which has been mandated in Federal elections by law, and which we believe will be an increasingly significant in the years ahead."
HBA's President, Linda Gibbs said, "This joint venture creates a peerless electronic business and provides tremendous value for both companies."
Since 1909, spurred by the scandalous election frauds, which prevailed in NYC in the early 1900's, a group of outstanding civic leaders, led by former President Teddy Roosevelt, brought about the formation of the Honest Ballot Association.
HBA has been asked to plan, conduct, supervise, and certify thousands of elections for a wide variety of organizations and institutions, including: Labor unions, Associations, Credit Unions, Co-ops & Condo Associations, Schools Boards, Contests, Lotteries, and Host for Presidential Elections.
HBA will benefit from this transaction by offering additional choices in voting to the general public. The joint venture expands HBA's access to the private sector voting customers, allowing us to better serve our issuing clients with additional secured voting.
# # #