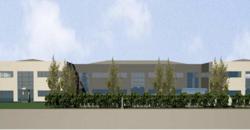 Rowley, MA (PRWEB) May 12, 2011
The Michell Instruments headquarters, located in the UK, has kicked-off a major construction project adding 14,000 square feet of factory space. This addition will be built onto the existing building providing an extra 5,000 square feet in office space, 3,200 square feet in storage space and the remaining space designated for manufacturing, calibration and service.
The planning for this extensive project began nearly a year ago when the Michell community decided expansion was imminent in order to continue to provide the high level of service their customers expect. Michell Instruments is a leader in the field of humidity, moisture and oxygen measurement and has provided top-tier service to their customers for over 30 years.
Offering superior customer service has been and continues to be the defining factor that separates Michell Instruments from their industry competitors. Michell is hiring additional manufacturing staff, engineers and developers as the company continues to grow globally. This project is expected to be complete by late 2011.
About Michell Instruments:
Michell Instruments is the international leader in the field of moisture, humidity and oxygen measurement solutions. With over 30 years experience, Michell designs and manufactures a wide range of transmitters, instruments and systems capable of measuring trace moisture, oxygen and hydrocarbon dew point in a vast range of applications and industries including compressed air, power generation, process, oil and gas, petrochemical, pharmaceutical and many more.
###