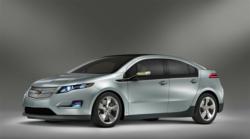 Joliet, IL (PRWEB) May 12, 2011
Chevrolet Volt's gold medal at this year's Edison Awards makes it clear that Chevrolet is on the cutting edge of technology and if you want to be a part of their success, there's no time like the present to purchase a vehicle from Bill Jacobs Plainfield, Plainfield's #1 Chevrolet dealership.
According to Tony Posawatz (Chevrolet Volt Vehicle Line Director), being selected as an Edison Award winner proves that innovation has been "at the heart of the Volt from its onset". At the ceremony which took place on Tuesday evening in NYC, the silver medal was won by the OnStar Mobile App, an application that allows Volt drivers to control vehicle changing functions as well as view the charge level along with other important data that makes their lives as drivers of electric vehicles a lot easier. The app in question has over 1,000,000 interactions and has been downloaded by approximately 60,000 drivers.
The gold medal received by Chevrolet Volt is a result of innovative engineering thanks to which the first electric vehicle with extended range capability in the world has been developed. If the car is fully charged, it is possible to travel up to 50 miles without gasoline and, of course, without emissions. After that, it is possible to continue for hundreds of miles, making this option extremely convenient.
All in all, the Chevrolet Volt is one of the world's most aerodynamic vehicles thanks to the reduced energy necessary to overcome air resistance, a feature which added approximately 8 miles of electric range as well as 50 miles of extended range to this car's impressive arsenal.
This gold medal is definitely not the only award in the trophy chamber of the Chevrolet Volt. The Motor Trend award, the Automobile Magazine award, the Ward's 10-Best Engine award, the Popular Science Best of What's New award as well as the Green Car of the Year award are just a few other trophies which can convince even the most well researched driver that the Chevrolet Volt is an engineering masterpiece.
If reading success stories such as this one makes you want to be a part of the large Chevrolet family, head on over to Bill Jacobs Plainfield, the most respected Chevrolet dealership in Plainfield and purchase the car of your dreams when you get a chance to. No matter what your needs may be, Chevrolet has a car that can and will leave you speechless.
###