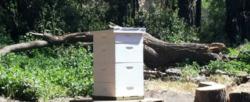 Laguna Beach, CA (PRWEB) May 12, 2011
The Aliso Creek Inn & Golf Course is proud to announce the installation of a beehive which will be home to over 40,000 honey bees by summer.
The fully contained hive has been placed near the outer areas of the golf course in an area surrounded by the natural vegetation found on the 90 acre resort. With an aluminum roof and custom-built stand, the hive is approximately four feet tall by 18 inches wide, and it provides a home and secure landing zone for its docile residents. Bees are essential to the area's plant and pollination eco-system, and 70 pounds of all-natural, chemical-free raw honey are expected to be generated by the hive, depending upon foraging schedules, weather and nectar flow. This honey will be used by our culinary team at the resort.
"We are very excited to initiate this bee program," states Kurt Bjorkman, General Manager at Aliso Creek Inn & Golf Course. "This is the perfect location for a bee hive program like this. Not only will the resort benefit from being able to use the fresh organic honey in our kitchen, but this program is also helping increase the bee population which has been quickly declining across the country."
Andrea (Andy) Wilde, Director of Catering & Conference Services, will be the official Bee Keeper. "I am keenly interested in sustainability within the hotel industry and am thrilled about this program," notes Andy. "I am looking forward to introducing our new guests to their new home and to start a friendship that will last a very long time!" Executive Chef Jennifer Ackerson also shares her excitement stating, "I can't wait to use the honey harvested right from our own grounds in my kitchen."
Once the hive settles and matures, the team will begin to bring in school groups and other organizations that are interested in sustainability and bees for tours. "We want to educate our community and guests on how the environment benefits from this program," says Kurt.
The resort has also introduced a new guest room amenity program in partnership with Gilchrist & Soames called BeeKind. The BeeKind™ Collection will feature Gilchrist & Soames' Signature formulations, which contain no parabens, phthalates, petrol-derived ingredients, mineral oil, urea, DEA, TEA or propylene glycol. The products will contain food-grade, naturally derived USP glycerin; natural conditioning agents from honey and the Brassica plant; and soybean and cottonseed oil, instead of petrochemicals. The BeeKind formulations are also free of any artificial colors or dyes.
Along with the eco-friendly packaging and formulas, the company is supporting honey bee and sustainable pollination research at the University of California at Davis Entomology Department.
About Aliso Creek Inn & Golf Course
Aliso Creek Inn & Golf Course is an 83 acre, 60 suite resort located at 31106 South Coast Highway. The 9-hole golf course winds its way up Aliso Canyon and has been a local treasure for over 30 years. The hotel caters to leisure travelers, corporate retreats and social events. For information and reservations, please contact 949-499-2271 or visit http://www.alisocreekinn.com.
About Gilchrist & Soames
Gilchrist & Soames (http://www.gilchristsoames.com) is a leading provider of cosmetic-grade toiletry collections for world-class hotels, exclusive resorts, and distinguished spas, inns, and bed & breakfasts. Specializing in servicing the luxury market, Gilchrist & Soames' products can be found in discerning properties throughout the world. Gilchrist & Soames is based in Indianapolis, Indiana and Peterborough, London, England. The company is wholly-owned by Swander Pace Capital, San Francisco. For more information, visit http://www.gilchristsoames.com.
Contacts:
Aliso Creek Inn & Golf Course
Kurt Bjorkman
General Manager
Phone: (949) 715-1407
kbjorkman(at)alisocreekinn(dot)com
Gilchrist & Soames
Christine Pyle, Gilchrist & Soames Marketing Director
Office: 317-781-7053
Cell: 317-201-5634
chpyle(at)gilchristsoames(dot)com
# # #