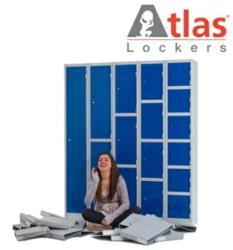 (PRWEB) May 13, 2011
With summer approaching, schools will be planning how they can maintain and upgrade their facilities during the holiday period. If this includes installing new lockers, schools will be wise to contact Action Storage because until the 27th May the storage equipment specialist is offering a discount of up to 39% from RRP on its popular Atlas Lockers®.
The special discounted price is available to schools ordering a minimum of 50 lockers. If they place an order for over 200 lockers then the Atlas Lockers® can be supplied for as little as £55+VAT per locker, or less than £15 + VAT per compartment. This offers schools a massive saving on the normal retail price, and enables them to stretch their budget even further, which is a welcome boon in this climate of spending cuts. Details on the price saving brackets can be found on Action Storage's website.
Action Storage is offering the discounted rate both to assist schools in maximising their budget and to ensure large orders can be received in time for a summer installation. To fulfil large orders, extra manufacturing capacity will need to be ordered prior to 27th May. This deadline ensures the lockers can be delivered in time for start of the next school year.
Action Storage's Atlas Lockers® are popular with schools because they offer high quality storage at a budget price. Made from hardwearing steel with reinforced doors, these durable lockers can cope with the heavy use and hustle and bustle of daily school life. Doors are available in bright blue or grey, and have an antibacterial finish so they can be kept clean and hygienic
The Atlas Lockers® are available in a variety of sizes and door options, with 2, 3 or 4 compartment lockers available at the discounted rate. This includes lockers large enough to store gym bags and books, and smaller compartments for storing mobile phones and personal items.
Along with Atlas Lockers®, Action Storage supplies schools with a wide variety of storage systems and equipment. This includes laptop trolleys, cycle shelters and its unique range of eXtreme Plastic Lockers®, which are made from hardwearing plastic and can be stacked outdoors under cover.
Further information on the Atlas Lockers® can be found on Action Storage's website, along with details on the 4000 other products in its range. Schools and other public sector organisations, can place orders on credit with a valid purchase order.
To take advantage of Action Storage's limited time offer, schools need to call Action Storage on 0800 592215 before the 27th May deadline and place an order for a minimum of 50 lockers.
About Action Storage
For 25 years Action Storage has supplied shelving, racking and other storage equipment using the latest materials and innovative designs. Its clients include supermarkets, warehouses, government offices, schools and anyone else requiring high quality storage systems throughout the UK and mainland Europe.
Action Storage prides itself on its high service levels, and provides a free, unique advice line for discussing your requirements and assessing the perfect storage solution.
For service enquiries contact:
Website: http://www.action-storage.co.uk
Email: sales(at)action-storage(dot)co(dot)uk
Tel UK: 0800 592215
Outside UK: +44 (0)1908 525700
Fax: +44 (0)1908 321650
Action Storage
6 Fitzhamon Court
Wolverton Mill South
Milton Keynes
Bucks
MK12 6LB
http://www.guardian.co.uk/education/2011/apr/07/schools-last-minute-budget-cut
###