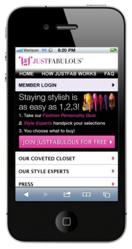 El Segundo, CA (PRWEB) May 12, 2011
JustFabulous, the monthly VIP membership program that grants members access to celebrity stylists and the latest trends in shoes and handbags, has launched its new mobile website as of May 11, 2011. The mobile-optimized website will help make the JustFabulous website, JustFab.com, even more accessible for both new and existing customers.
The mobile website project has been a key priority for JustFabulous as the brand continues to become increasingly tied to the fast-paced and instantaneous nature of social media. By improving the traditional online shopping practice, JustFabulous has married the efficiency of Internet shopping with the fun and supportive spirit of shopping with friends.
The new JustFab.com for mobile will make it even easier for style-seekers to fill out their style profile, purchase their favorite shoes and share selections with their friends. Members and non-members can now log onto JustFab.com from wherever they are with their Smartphone. While non-members can sign up for the innovative service from their mobile devices, existing members can also manage their account, invite friends to join, rate their newest purchases and share their personalized boutiques on Facebook.
"Over 10% of our current traffic comes from mobile" says Adam Goldenberg, CEO of JustFabulous, "with the updated technology and content of our new mobile-optimized site, we expect that number to grow significantly."
About JustFabulous
JustFabulous (http://www.JustFab.com) is a monthly VIP membership program that grants shoe and handbag lovers access to celebrity stylists and the hottest trends. As a member, style experts will review each individual's style before searching through hundreds of accessories and making recommendations based on personal style and fashion preferences. All JustFabulous shoes and handbags are $39.95 and shipping is always free.
# # #