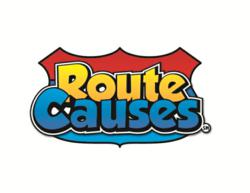 Cincinnati, OH (PRWEB) May 12, 2011
A former politician has teamed with a group of Midwest filmmakers to launch a new type of animated cartoon series, combining political opinion with comedic storytelling. Route Causes centers on a traveling TV news crew discovering offbeat current events. Embedded in each episode is an illustrated opinion piece, anchored by "Phil Hamlish" -- a fictional pundit loosely based on real-life politician Phil Heimlich, who co-created the new series and serves as the project's Executive Producer.
"Americans are fed up with the polarization of the two-party system," said Heimlich, a former politician from Cincinnati, Ohio. "The bickering has stalled our country's ability to solve problems. Our goal in creating Route Causes was to invent an entertaining mechanism that gives voice to revolutionary ideas and common sense perspective."
Heimlich himself is no stranger to the skirmish, having served for two decades in county and municipal government in Ohio. "I've been in the middle of it -- in those courthouses, city halls, and capitol buildings -- and I know how difficult it can be to address constituents' needs, protect a party agenda, and achieve election goals," Heimlich admitted. "It's impossible to enact real solutions in such a broken system."
To create Route Causes, Heimlich assembled an experienced team that includes filmmakers, musicians, web designers, writers and animators. Though their expertise is diverse, they all agree that the current state of politics needs to be fixed. "We don't all see eye-to-eye on every political issue," he continued, "but we all agree that animation is a great way to express bold opinions."
The team debuts its work on YouTube with an episode about U.S. hyperinflation and the risks of debt monetization. In the segment, set to appear on May 11, 2011, the news crew interviews a man emerging from a 40-year stay in a fallout shelter. His shock at the high cost of goods prompts news pundit Phil Hamlish to deliver a pointed op-ed piece on the dangers of uncontrolled national debt.
Upcoming episodes in pre-production will explore the topics of drug laws, Afghanistan, and campaign finance reform. For more information about Route Causes, visit the website at http://www.routecauses.com.
http://www.youtube.com/watch?v=4yQwZ2B10uU&feature=youtu.be
Press contacts: Email info(at)routecauses(dot)com or phone (513) 402-2460.
###