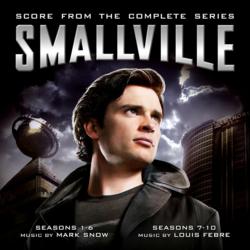 Burbank, CA (PRWEB) May 11, 2011
WaterTower Music is excited to announce the release of "Smallville: Score from the Complete Series." This 28-song collection features nearly 70 minutes of music from composers Mark Snow and Louis Febre, and is available now in digital form for download at Apple's iTunes Store. The release coincides with the two-hour Smallville series finale broadcast, airing Friday, May 13, at 8/7c on The CW. As Smallville concludes its 10th and final season chronicling a young Clark Kent's journey toward becoming Superman, it holds the record for the longest consecutive-running science fiction series in U.S. television history.
On a weekly basis, the score to Smallville was composed as each episode was being produced. This scoring schedule provided the composers with the flexibility to alter the musical themes throughout the series to reflect the growing maturity of Clark Kent — from a freshman at Smallville High to a reporter at The Daily Planet.
To download cover artwork, click here: http://bit.ly/m9Ytyd
Mark Snow is an ASCAP Award–winning songwriter who composed the score for the first six seasons of Smallville and has written music for The X-Files, Millennium, One Tree Hill, Starsky & Hutch and many more. Louis Febre is an Emmy Award–winning songwriter who composed the score for Smallville seasons seven through 10 and has written music for The Cape, Swimfan, The Fugitive, a number of Scooby Doo DVD features and many more.
"Smallville: Score from the Complete Series" features almost 70 minutes of music handpicked by the composers themselves. Below is the complete track listing:
1. Grow Up Superboy – Mark Snow
2. Webmaster – Mark Snow
3. The Setup – Mark Snow
4. Where Am I – Mark Snow
5. Burn Baby Burn – Mark Snow
6. Freaks – Mark Snow
7. The Final Stone – Mark Snow
8. Their Only Poison – Mark Snow
9. Demon Dad – Mark Snow
10. Crash Landing – Mark Snow
11. Rigged To Blow – Mark Snow
12. Green Arrow – Louis Febre
13. Defeating Bizarro – Louis Febre
14. The Fortress Falls – Louis Febre
15. Lois' Waltz – Louis Febre
16. Zatanna – Louis Febre
17. In The Rain – Louis Febre
18. Pandora's Kiss – Louis Febre
19. A Hall of Heroes – Louis Febre
20. Supergirl Arrives – Louis Febre
21. Clark Tells Lois – Louis Febre
22. The Proposal – Louis Febre
23. To Fly – Louis Febre
24. Disguise Needed – Louis Febre
25. A Lemur in the Room – Louis Febre
26. Booster Gold – Louis Febre
27. Zod's Demise – Louis Febre
28. Trials – Louis Febre
Smallville season 10 stars Tom Welling, Erica Durance, Justin Hartley and Cassidy Freeman. Kelly Souders & Brian Peterson, James Marshall, Tom Welling, Mike Tollin, Brian Robbins and Joe Davola are the executive producers. The series is based on DC Comics characters, was developed for television by Alfred Gough & Miles Millar and is produced by Tollin/Robbins Productions, Millar/Gough Ink and Warner Bros. Television. Superman was created by Jerry Siegel and Joe Shuster.
Contacts:
Joe Kara
WaterTower Music
(818) 954-5017, joe(dot)kara(at)warnerbros(dot)com
Susan Kesser
Warner Bros. Television Publicity
(818) 954-7608, susan(dot)kesser(at)warnerbros(dot)com
Twitter: @skesser
# # #