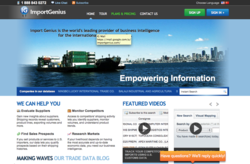 People don't realize, but Arizona is a great place to start a high tech business
Scottsdale, Arizona (PRWEB) May 13, 2011
ImportGenius.com announced today that it has joined the Arizona Technology Council, the state's leading high-tech advocacy group. As a leader in providing Internet services for importers and exporters across the country, Import Genius hopes joining the council will help it get back to its Arizona roots.
The firm's founders expect participation in the Council's events to provide a new channel for contributing to Arizona's entrepreneurial ecosystem and opening up new partnership opportunities with high-tech businesses in the region.
"We're proud to have started a successful Internet business here in Arizona," says ImportGenius.com co-founder Ryan Petersen. "The state doesn't get the recognition it deserves as a great place to start a high-tech company, so we're thrilled to contribute to the AZ Tech Council's efforts to raise the profile of Web-based businesses."
The Scottsdale business intelligence service will take advantage of the Council's training seminars, networking events, recruiting services and public seminars, while offering special promotions to other members.
While not known for their high-tech prowess, businesses in the international trade and logistics industries are being steadily transformed by the Internet. ImportGenius.com's clients in the importing, distribution and logistics businesses rely on the company's web-based trade data products to glean insights into their competition, find new business opportunities and operate more effectively in a globalized world.
Already a pioneer in the delivery of web-based services to the international trade community, ImportGenius.com expects membership in the Arizona Tech Council to further cement its leadership position in this rapidly changing ecosystem.
About ImportGenius.com
ImportGenius.com is a leading provider of business intelligence to the companies involved in international trade and logistics. The company's Web-based data services provide unprecedented access into the real-time operating activities of millions of companies around the world. By helping businesses evaluate overseas suppliers, monitor trading partners, identify sales leads, track competitors, and research markets, ImportGenius.com sheds new light on the world of global trade.
About the Arizona Tech Council
The Arizona Technology Council is a non-profit trade association founded to connect, represent and support the state's expanding technology industry. To promote economic growth and professional development in Arizona's technology sector, the Council provides members networking opportunities, business support and access to educational forums. The Council strives to distinguish Arizona as a leader in the technology community and offer resources that are exclusive to its members.
###