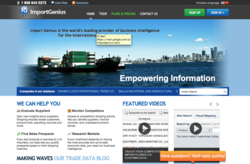 We love Scottsdale. This new headquarters shows our commitment to being part of the business community here for years to come.
Scottsdale, Arizona (PRWEB) May 24, 2011
ImportGenius.com, a leading Web-based provider of data on international trade and logistics, has moved to a spacious new office in Scottsdale, Arizona. The new space provides larger meeting areas, more private offices, as well as an outdoor space for team members to get a little fresh air.
"In the past few months we've increased our sales and customer service teams three-fold," says ImportGenius.com Co-Founder Ryan Petersen. "The new office gives us more room to breath and also to continue adding talented sales and service team members."
The new corporate headquarters on Scottsdale Road replaces a smaller office near Fashion Square Mall where the company has been based since 2007. It also complements the firms sales and development offices in Manila and Shanghai, which it has operated since 2008.
"We love Scottsdale," says David Petersen, Ryan's brother and co-founder. "This new headquarters shows our commitment to being part of the business community here for years to come."
Decorated with colorful canvases representing the shipping industry where the company has pioneered the delivery of web-based services, the office gives ImportGenius.com a home the employees can be proud of.
"When people visit the office, the first thing they notice are the giant container ships on the walls," says Mr. Petersen. "We're not really used to thinking of these things as art, but in our world, these ships and the containers they carry are special objects worth revering from a new perspective."
About ImportGenius.com
ImportGenius.com is a leading provider of business intelligence to the companies involved in international trade and logistics. The company's Web-based data services provide unprecedented access into the real-time operating activities of millions of companies around the world. By helping businesses evaluate overseas suppliers, monitor trading partners, identify sales leads, track competitors, and research markets, ImportGenius.com sheds new light on the world of global trade.
###