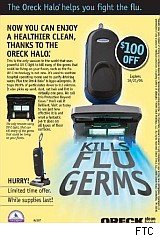 (PRWEB) May 12, 2011
Yesterday, the owner of an Oreck Halo vacuum filed a class action against Oreck Corporation in Illinois federal court. (Ruscitti v. Oreck Corporation 1:11-cv-03121 ). The primary charge is that Oreck misrepresented the "germ killing" abilities of its Oreck Halo vacuum. The lawsuit alleges that Oreck aggressively advertised and marketed the Halo vacuum's ability to "kill and reduce virtually all bacteria, viruses, germs, mold, and allergens that exist on carpets and floor surfaces" including the flu and common cold. According to the lawsuit, such claims were not substantiated. The lawsuit alleges Oreck charged consumers a substantial premium for the "germ killing" Halo vacuum, and seeks remedies under state consumer protection laws related to false advertising.
Earlier this year, the Federal Trade Commission charged Oreck with making false and deceptive health claims regarding its Halo vacuum and ProShield Plus air cleaner products. (FTC File No. 102 3033).
The class action lawsuit was brought by the Keogh Law, Ltd. in Chicago, Illinois. If you purchased an Oreck Halo or ProShield Plus product as a result of Oreck's advertising, contact the Keogh Law, Ltd. to learn your important rights. (312) 780-7364 or online at http://www.keoghlaw.com/Contact.shtml
###