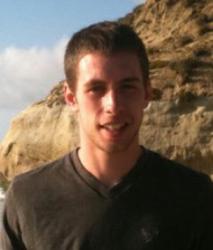 Lexington, KY (PRWEB) May 12, 2011
Chris Fernandez, an electrical engineering student at Binghamton University in New York is the recipient of the Excellence Awards $2,000 scholarship. Fernandez, a freshman at the university, beat out over 400 other applicants and received nearly 500 votes on the company's Facebook voting application.
The company began the search for the most excellent student in America on April 1st and continued through April 22nd. In that time period eCampus.com received over 400 applications from outstanding students all across the country. They then narrowed the applicants down to the Top 5. From there, the public was invited to vote for their favorite candidate on the company's Facebook page. The voting period ended Monday, and Fernandez was announced as the winner. Fernandez was joined in the Top 5 by Angel Cadena Jr., a student at Southern Connecticut State University; Ashley Carr, a student at Indiana University Bloomington; Alexis Smith, a student at Lee University, and Lauren Delpont, a student at Transylvania University. The candidates received a combined total of 1,392 votes on the company's Facebook page, and Fernandez won with 491 of those.
The criteria for the Excellence Awards stated that the student possess outstanding work ethic both in and out of the classroom, academic excellence, community leadership, and involvement in school activities.
Some of Chris' achievements include: completing the rank of Eagle Scout through the Boy Scouts of America (serving as the Senior Patrol Leader of his troop for a year); planning, organizing and leading a landscaping project and flowerbed installation at a new elementary school playground in his community; four time High School All-American in track; maintaining a 3.5 GPA in his first semester as an electrical engineering student; and running a freshman school record for the 800-meter distance in track at Binghamton University.
Chris had this to say about his receiving the award, "This scholarship will help me to continue the excellent education I am gaining at Binghampton University, and I know that the support I am receiving will help me to reach my goals. Thank you eCampus for making education more affordable for me and for all students."
Thanks to the success of the campaign, the company plans to make the Excellence Awards an annual occurrence. "Giving back to students is what we're all about. Chris is a perfect example of a hardworking student and we are happy to reward him for all his achievements," said Matt Montgomery, eCampus.com's CEO.
The four runners-up all received a $250 gift card to eCampus.com for the purchase of textbooks or merchandise on the company's website. Fernandez won a $2,000 scholarship from the company, and all students at Binghamton University will receive 30% extra buyback credit with an active Binghamton University email address and a coupon code posted on the companies facebook page when selling textbooks back to eCampus.com through 2011.
ABOUT eCampus.com
eCampus.com was established on July 2, 1999. Since then, eCampus.com has grown into a major online retailer providing cheap textbooks for college and high school textbooks. eCampus.com's mission is to provide the easiest, fastest, cheapest way for college and university students to buy textbooks, rent textbooks and sell textbooks. eCampus.com believes the Internet buying experience should be fun and shopping for textbooks should be as fast and convenient as possible. The company makes a personal commitment to every customer that eCampus.com will be the best source for everything they need.
###