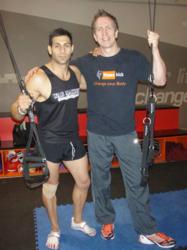 I just wish the War Machine were around 7 years ago when I was fighting.
Duarte, CA (PRWEB) May 13, 2011
Tony Antoniou and Matt Thom owners of Fitness Kick Australia are not newcomers to suspended fitness training and have been using various forms of it for the last many years. They have now signed the exclusive distribution agreement in Australia for all CrossCore, Inc. Rotational Bodyweight Training products, training programs and accessories.
With a Degree in Human Movement, Matt Thom has worked in the fitness industry over 15 years as a personal trainer, corporate trainer, motivational speaker, educator and fitness consultant. He is co-founder of Fitness Kick @ Flemington, Melbourne's first specialized fitness training center, winner of the 2007 and 2008 Personal Training Business of the Year. Thom has developed and trademarked over six effective training programs, and has extensive martial arts experience being the Victorian sensei for Australian Freestyle Boxing. He currently runs self-defense programs in over 100 schools throughout Australia, and has won four World Titles in pairs fitness.
"I was one of the first to use suspended body weight classes and write chorography for them. Coming from this background, we immediately appreciated the War Machine and Crosscore180 because they offer so much more to training. The difference is rotational movement from the pulley, with the pin pulled out. It allows clients to work their entire body. We installed 20 units as soon as they arrived. I offer a weekly class on the War Machine and Crosscore180 called "Swing" and our members love it!" said Matt Thom, co-owner of Fitness Kick Australia.
Tony has an extensive background in martial arts and nutrition. In fact he is a Black Belt in Tae Kwon Do, holds a Blue Belt in Brazilian Jiu Jitsu and has been a professional Kick Boxer for years. He also holds a certificate in fitness and nutrition. He is a firm believer in that the rotation the War Machine provides during exercise is the key
to fitness, strength and longevity.
"With expertise in martial arts and kick boxing, I have had a total of 15 fights and only 2 loses. I just wish the War Machine were around 7 years ago when I was fighting. I might have been 17 and 0. It offers Rotation! Rotation! Rotation! And Matt and I have developed collaboration between Kick Boxing and Pairs Fitness that kicks butt in elite physical training," offered Tony Antoniou, co-owner of Fitness Kick Australia.
"Besides our products, a key difference between us and all other suspended trainers is that we are attracting the most diverse elite trainers in the world and the best distribution partners. We are excited to have Fitness Kick Australia onboard, and to benefit from their expertise to grow the Rotational Bodyweight Training movement around the globe," said Brendan Cosso, President, CrossCore, Inc.
CrossCore, Inc. is a manufacturer of advanced "Rotational Bodyweight Training" products and accessories. Its one-of-a kind patent pending pulley systems adds rotational movements to continuously engage the core and the entire body to create highly effective training techniques. Additionally, Crosscore products offer high versatility in fitness training with the addition of accessories including kettlebells, rings, straps, and sandbags to deliver peak conditioning opportunities. CrossCore allows all levels and ages of users- fitness enthusiasts, sports performance athletes, military personnel, mixed martial artists and more- to safely challenge themselves and to actively grow their fitness goals. CrossCore's rotate to engage products are distributed in the U.S. and Internationally.
For more information please go to http://www.crosscore-usa.com or contact Jay Wilson at http://www.jay@crosscore-usa.com
# # #