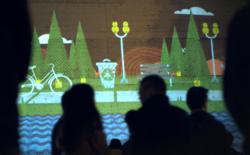 "When people ride bikes, great things happen, and now we have a video that proves this concept."
Boulder, CO (PRWEB) May 11, 2011
In celebration of National Bike Month (May), the nation's largest unified bicycling movement, Peopleforbikes.org, is releasing an unprecedented video about the joys of biking and the positive and lasting change it can bring to communities and people across America. The film uses colorful animations projected onto streets, parking structures, overpasses and a twelve-story building to transform a lifeless urban cityscape and demonstrate how bikes make life better.
"When people ride bikes, great things happen, and now we have a video that proves this concept," said Tim Blumenthal, president of Peopleforbikes.org, and a national leader in bicycling for 30 years.
The video shows people — some commuters, some BMX riders, some recreational — riding down urban streets, as their bikes trigger dramatic changes in the landscape. A waterfall cascades down the side of a building. A giant sun warms up a dark corner. A vine creeps up a lamppost. Fish dart from a moving sea. These unique images shed light on how bicycling has the power to make the communities we call home a better place for everyone.
During the video production in Los Angeles, Calif., last month, light projectors shined the art, specifically created for the video, on iconic city structures. Crowds gathered as bicyclists pedaled and prompted the lights — generating a poignant, beautiful and unique celebration of an activity that has the potential to alleviate two of the major crises facing Americans today: obesity and high gas prices.
Two-thirds of U.S. adults and a quarter of children are now overweight or clinically obese, but the health benefits of regular bicycling can last a lifetime. Gas prices are rising to record levels, but every two miles pedaled instead of driven will save at least a dollar.
"We hope this video is not only a celebration of all the happiness and benefits bicycling can bring to individuals and communities, but that it also leads to more Americans signing our simple pledge in support of better, safer bicycling in the U.S.," said Blumenthal. "More than 225,000 people have signed the pledge at peopleforbikes.org already, including Lance Armstrong and city officials such as Minneapolis Mayor R.T. Rybak."
To view the short video, click on this link: http://youtu.be/gJcPcRr4QeU
###