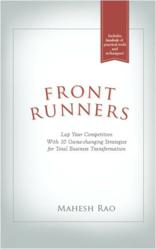 Minneapolis, MN (PRWEB) May 16, 2011
Front Runners: Lap Your Competition With 10 Game-Changing Strategies For Total Business Transformation is a step-by-step program that shares author Mahesh Rao's 10 strategic steps successfully implemented by numerous executives of Fortune 100 companies during the last decade.
Practical and well-tested, the down-to-earth lessons found in Front Runners can be applied to a wide range of corporate, academic, and social arenas. Readers will discover how industry leaders get ahead and stay there, and apply the same skills and strategies to their business and personal lives.
"Having led transformational efforts both as a management consultant and as a corporate executive, I found Rao's insightful, step-by-step approach on executing a business transformation to be an essential tool for managers looking to build or maintain their company's leadership position." − Paul Brown, President, Global Brands and Commercial, Hilton Worldwide
"In Front Runners, Mahesh has created a pragmatic but comprehensive framework for driving transformation change. The framework has the necessary structure for the novice and enough flexibility that more mature practitioners can use it as well." − Randy Pond, EVP, Cisco Systems
Preview copies of Front Runners are available in consideration of a review or interview with the author.
To see what other executives are saying about Front Runners please visit: http://www.MaheshCRao.com or contact publicist Emily Weiss for more information.
About the Author: Mahesh Rao has a degree in engineering and holds an MBA from Kellogg Graduate School of Management. Rao is an executive consultant with over 20 years of business experience and has been coaching senior executives at Fortune 100 companies for more than a decade. He spent many years building strategies, managing global business and technology operations, and leading business transformation efforts. Rao has 14 US and international patents, including a Most Valuable Patent award for 2005 from the Japanese government.
###