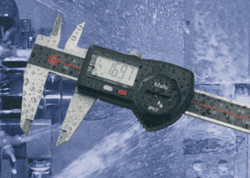 Providence, RI (PRWEB) May 13, 2011
Mahr Federal has introduced a new generation of its popular line of MarCal digital calipers. Included are a number of innovations, such as lapped guideways, a new Reference System which retains the zero position setting, and an increased number of product options and accessories. MarCal digital calipers are available with protection against dust and immersion to class IP67, provide increased battery life, offer a range of data output options, and are available in a wide range of sizes, and blade and anvil configurations. The design recently won a German award for excellence in innovation and quality.
The new Reference System available on MarCal R-designated digital calipers is designed to be a significant time-saver for operators. Unlike older models, which require the zero position to be reset whenever the caliper is switched on, the MarCal Reference System retains the zero setting, so that the unit is ready to measure whenever it is turned on or the jaws are moved. A convenient Reference Lock protects the setting from operator error, and the new Reference System is also much more energy efficient, providing up to 50% longer battery life.
Mechanically, the new MarCal digital calipers are the only line to provide lapped guideway surfaces. Compared to ground guideways, this improvement not only smoothes slide operation and sensitivity, but significantly increases the service life of the instruments. Ergonomic improvements, including a thumb support and large LCD with 8.5 mm digits, facilitate operation. W-designated MarCal units include protection against dust, water, coolant, and lubricants to IP67, making them suitable for service in even the most difficult shop conditions.
SPC being critical in many shops these days, MarCal digital calipers offer a number of data output options as part of their MarConnect interface. USB ready devices allow direct connection to a PC, enabling users to transfer measured values directly into MS Excel or other applications. A Digimatic interface allows connection with compatible evaluation devices, and an RS232 interface allows connection to older PCs.
A large selection of ranges, sizes, and configurations are available within the MarCal digital caliper line, including Depth Gages, units with blades for Inside and Outside Measurements, and a wide range of anvil configurations. A Universal set is also available which includes standard accessories to measure recesses and grooves, threads, bores, serrations, and more.
In Germany, the Mahr design has received the "Kompetenzpreis Baden-Württemberg" for one caliper in the line, the MarCal 16 EWR. The award recognizes excellence in innovation and quality, and not only takes into account the design and features found in the new caliper, but also the complete product creation process, including product development, implementation of customer requirements, design for manufacturability, and building of the production site.
Mahr Federal Inc., a member of the Mahr Group, is known worldwide for its expertise in providing dimensional measurement solutions. The ISO 9001:2000-certified company is headquartered in Providence, RI, and manufactures and markets a wide variety of dimensional metrology products. Mahr Federal's calibration system is accredited to ISO 17025 NVLAP Lab Code 200605-0. For additional information on Mahr Federal products, visit http://www.mahr.com.
###