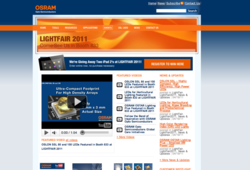 Our virtual event offers everyone who is interested a chance to visit LIGHTFAIR and they will also have a chance to win an iPad2 just for checking in. - Kate Cleveland
Regensburg (PRWEB) May 12, 2011
LIGHTFAIR International 2011 on May 17th – 19th in Philadelphia just got a whole lot more exciting with the launch of the OSRAM Opto Semiconductors Virtual Tradeshow Website – where LED fans, engineers, students, designers, and enthusiasts can see video and photos from LIGHTFAIR 2011 and enter to win one of two Apple iPad 2's from OSRAM Opto Semiconductors.
Visit booth #833 to experience all the amazing LED lighting exibits from OSRAM Opto Semiconductors, or visit OSRAM Opto Semiconductors online at the Virtual Tradeshow Website where you can experience LIGHTFAIR International 2011 from the comfort of your home or office.
LIGHTFAIR International is the largest architectural and commercial lighting tradeshow and conference in the world. The top architectural, design, engineering and lighting professionals gather annually to share the latest industry technology through LED and Lighting exhibits, workshops and presentations. This year, LIGHTFAIR will take place in Philadelphia, Pennsylvania May 17-19th at the Pennsylvania Convention Center. If you are unable to attend in person, please consider visiting the Virtual LIGHTFAIR Experience from High-Brightness LED experts OSRAM Opto Semiconductors.
The OSRAM Opto Semiconductors LIGHTFAIR 2011 Virtual Tradeshow Experience will feature photos, videos and written articles from the show floor of the international conference in Philadelphia, Pennsylvania. In the spirit of last year's Virtual Tradeshow Experience, the site will feature customer spotlights, news from LIGHTFAIR 2011 and a "best of" section that will include favorite and unique pictures taken from the tradeshow and conference.
"We are excited to once again offer a virtual trade show experience as a compliment to our presence on the show floor of LIGHTFAIR 2011, said Kate Cleveland, Marketing Communications Manager for OSRAM Opto Semiconductors, "Our virtual event offers everyone who is interested a chance to visit LIGHTFAIR and they will also have a chance to win an iPad2 just for checking in."
OSRAM Opto Semiconductors will be giving away two Apple iPad 2s and you can enter to win at http://ledlight.osram-os.com/lightfair2011. Winners will be announced via email and on the LIGHTFAIR 2011 Virtual Tradeshow web site on Thursday, May 26.
Last year's Virtual Tradeshow Experience at LIGHTFAIR International attracted over 23,500 page views and 20,000 YouTube video views. The virtual conference coverage is the perfect opportunity for you to get in on the action from wherever you happen to be. OSRAM Opto Semiconductors will be regularly updating the site during the conference so make sure to check back often for the latest news, photos, videos and interviews from LIGHTFAIR International 2011.
ABOUT OSRAM OPTO SEMICONDUCTORS
OSRAM is part of the Industry sector of Siemens and one of the two leading lighting manufacturers in the world. Its subsidiary, OSRAM Opto Semiconductors GmbH in Regensburg (Germany), offers its customers solutions based on semiconductor technology for lighting, sensor and visualization applications. OSRAM Opto Semiconductors has production sites in Regensburg (Germany) and Penang (Malaysia). Its headquarters for North America is in Sunnyvale (USA), and for Asia in Hong Kong. OSRAM Opto Semiconductors also has sales offices throughout the world. For more information go to http://www.osram-os.com.
This document constitutes neither an offer to sell nor a solicitation to buy or subscribe for securities. Any such offer will be made solely on the basis of the Securities Prospectus yet to be approved by the German Financial Supervisory Authority (BaFin) and published thereafter. The information legally required to be provided to Investors will be contained only in the Securities Prospectus. The information contained herein is not for distribution, directly or indirectly, in or into the United States of America (including its territories and possessions of any State of the United States of America or the District of Columbia) and must not be distributed to U.S. persons (as defined in Regulation S under the U.S. Securities Act of 1933, as amended ("Securities Act")) or publications with a general circulation in the United States of America. This document is not an offer of securities for sale in the United States of America. The securities have not been and will not be registered under the Securities Act and may not be offered or sold in the United States of America absent registration or an exemption from registration under the Securities Act. The Issuer does not intend to register any portion of the offering in the United States of America or to conduct a public offering of the securities in the United States of America. This document is not an offer of securities for sale in the United Kingdom, Canada, Japan or Australia.
PRESS CONTACT
Kate Cleveland
Tel: +1 (248) 277-8018
Fax: +1 (248) 596-0395
e-mail: kate.cleveland(at)osram-os(dot)com
TECHNICAL INFORMATION:
OSRAM Opto Semiconductors
Tel. +1 (866) 993-5211
e-mail: support(at)osram-os(dot)com
###