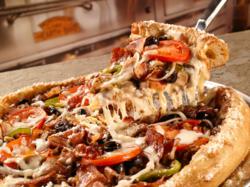 We are very excited to bring something different and exciting to Southern Pines, and in our opinion, nothing is better than the food and atmosphere of Mellow Mushroom."
southern pines, NC (PRWEB) May 11, 2011
Mellow Mushroom Pizza Bakers will be opening in Southern Pines, N.C. on Monday, May 16, 2011, at 10840 US Hwy 15/501, Southern Pines, North Carolina, 28387, across the street from Lowe's Hardware Store.
The Craven and Dunahay families, owners, are thrilled to bring an exciting place with great food to Southern Pines. "We wanted to open up Mellow in Southern Pines for a few reasons. We are absolutely passionate about the quality food of Mellow Mushroom. We are long time residents and our families go back generations within the Sandhills area, and we wanted to take the opportunity to bring a business to the Community. We are very excited to bring something different and exciting to Southern Pines, and in our opinion, nothing is better than the food and atmosphere of Mellow Mushroom."
Mellow Mushroom features a creative menu with a wide variety of pizzas, hoagies, salads, calzones, appetizers, vegan options and a gluten-free crust is also available. You can enjoy a creative atmosphere with unique artwork. This Mellow is in 40 year old recycled building which features parts of the old building while adding a fresh design, making this a true Southern Pines landmark
This Mellow will host trivia, drink and draw, live music, comedy nights, corn hole and a beer club for the beer enthusiasts, which will feature an exclusive beer club with 100 craft beers. The Mellow Mushroom will operate 7 days a week Sunday- Wednesday, 11:00 a.m. to 12:00 p.m. and Thursday-Saturday 11:00 am to 2:00 a.m.
For 36 years Mellow Mushroom has been serving up fresh stone baked pizzas to-order in an eclectic, art filled environment. Each Mellow is locally-owned and operated with a unique feel, and focused around great customer service and quality.
###