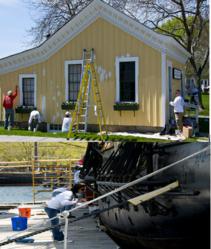 Today, 30 structures were painted in the village and one mile of fences were scraped and painted.
East Hartford, CT (PRWEB) May 12, 2011
A team of nine employees from Travel Insured International® was proud to join 350 fellow volunteers from across the travel industry representing Tourism Cares for America (TCFA) in gathering on May 6, 2011 at Mystic Seaport, the historic maritime museum village in southeast Connecticut. Tourism Cares is the travel industry's leading non-profit charitable organization for tourism preservation, restoration and education, and was founded as a joint volunteer organization of the National Tour Association and the U.S. Tour Operators Association. The volunteer day at Mystic Seaport was Tourism Cares' 10th volunteer day since its first project in 2003 helped restore Ellis Island in New York harbor. Tourism Cares has also performed volunteer work days twice in New Orleans, as well as in Mount Vernon, VA, the Mississippi Gulf Coast, Virginia City, NV, Gettysburg, PA, the National Mall in Washington D.C., and Angel Island, CA.
Mystic Seaport President and CEO Stephen White told Tourism Cares volunteers at a reception following their day of work in Mystic that their one-day effort was the equivalent of 350 days of normal staff work. "Today 30 structures were painted out of 100 in the village and one mile of fences were scraped and painted," said White. "Many of the preserved artifacts from our museums were moved into storage." He added that after a "very tough winter that took a toll on our buildings," both annual jobs and deferred jobs were accomplished by Tourism Cares in one day that, otherwise, "would have been a few years away from being done."
Mystic Mission Accomplished
Other jobs performed on the Mystic Seaport project included the exterior painting of ships, cannons, and other portside artifacts, children's outside play areas, and the interior of the children's museum, as well as extensive mulching of garden beds and grass areas. White and Tourism Cares President Bruce Beckham expressed special thanks to the Sherwin-Williams Company, which donated 135 gallons of paint and gave a 40 percent discount on all supplies needed for the Mystic Seaport project.
Beckham thanked his organization's volunteer efforts and capped off the day at Mystic by presenting White with a Tourism Cares donation check for $10,000. In addition to TCFA sponsor donations, funds were raised during the Annual Bob Whitley Golf Classic, which was played on May 5th at the Lake of Isles Golf Course at Foxwoods Resort & Casino in North Stonington, CT. Golfers from Travel Insured International® playing in the Whitley Golf Classic and working at Mystic Seaport the following day included Director of Sales and Industry Relations Isaac Cymrot and Senior Vice President of Sales & Business Development Marc Flood.
Other Travel Insured volunteers who joined the work day at Mystic Seaport included: Judy Sutton, Director of Product Development; MaryAnne O'Neil, Director of Human Resources; Kevin Herlihy, National Accounts Manager; Chris Ruey, Key Accounts Manager; Sherry Sutton, Marketing Manager, Sarah Raymer, Claims Manager, and John Stone, Media Relations Manager.
Beckham announced to the Mystic Seaport volunteers that the next Tourism Cares project will be held in commemoration of the 10th anniversary of the attack on the World Trade Center, and will take place on Friday, Sept. 9, 2011, at Valley Forge National Historic Park in King of Prussia, PA. Valley Forge is the farming community that was the site of the 1777-78 winter encampment of the Continental Army under General George Washington. Among other structures, the park contains the Isaac Potts House which served as Washington's command headquarters during the Valley Forge encampment.
Travel Insured plans to send volunteers to Valley Forge in September to help Tourism Cares for America continue its mission "to preserve the travel experience for future generations."
About Travel Insured International®
Travel Insured International®, based in E. Hartford, CT, was founded in 1994 by the foresight of insurance industry executive Peter Gehris when he acquired the travel protection division of the Travelers Insurance Company. Coverage is underwritten by Arch Insurance Company (a Missouri corporation, NAIC #11150) with executive offices located in Jersey City, NJ. Arch Insurance is rated A ("Excellent") for financial strength by the insurance rating service A.M. Best. Not all insurance products or coverage is available in all jurisdictions. Coverage is subject to actual policy language
Travel Insured International®
52-S Oakland Ave.
E. Hartford, CT 06128-0568
Contact: John Stone
Media Relations Manager
###