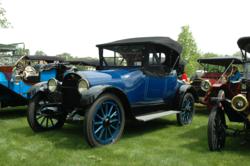 Plattsburgh, NY (PRWEB) May 12, 2011
Starting August 13th and ending on August 19th, 2011 the Champlain Valley Transportation Museum (CVTM) and the newly formed Adirondack Coast Chapter of the Horseless Carriage Club of America (HCCA), with support from the Adirondack Coast Visitors Bureau will host HCCA's National Tour. Classic car lovers throughout the country will bring their pre 1916 antique automobiles to Clinton County for a week of planned itineraries along the Adirondack Coast. This event also includes a public viewing day at Bluff Point Gold Course and Resort and a Lozier Centennial Celebration Black Tie Dinner with proceeds benefiting the Champlain Valley Transportation Museum.
Each day, the 75+ cars will set out on a planned itinerary for the day where they will explore different parts of the Adirondack Coast. Stops will Rouses Point, Heart's Delight Farm Heritage Exhibit, Parker's Maple Farm, Rulf's Orchard, Ausable Chasm, Babbie's Rural & Farm Learning Museum, Elf's Winery & Cidermill, Stonehouse Winery, Amazing Grace Vineyard, Vesco Vineyards and Fort Lennox. Kristy Kennedy, Group Marketing Specialist, stated, "It was fun setting up these five itineraries for the HCCA National Tour. There is so much to do on the Adirondack Coast and with it breathtaking views I am sure that the group will have a wonderful time exploring the coast."
On Sunday, August 14, the public will have a chance to view the antique cars involved in the HCCA National Tour and speak with their owners during a special afternoon at Bluff Point Golf Resort in Plattsburgh. Owners will have the chance to put their cars on display where the public can vote for their favorite vehicle. One antique car owner will be awarded the Adirondack Coast's Crowd Favorite. That afternoon will also feature period dress, tours between Bluff Point Golf Course and Clinton Community College, where the Lozier car, once manufactured in Plattsburgh, was featured in several advertising campaigns.
A Lozier Centennial Celebration will take place the evening of Sunday, August 14, 2011 at the beautiful Valcour Boathouse. The dinner will commemorate the 100th Anniversary of Lozier's 1911 win of the Vanderbilt Cup and AAA National Championship. The evening will include special keynote speakers, Corky Coker and Howard Kroplick, a cocktail hour, dinner and musical entertainments. This will be a fundraiser for the Champlain Valley Transportation Museum and is open to HCCA Tour participants, as well as, the public, tickets are on sale through the museum. Ashlea Kenne, Director of Fundraising & Membership at the Champlain Valley Transportation Museum stated, "We are thrilled with the opportunity to bring such a notable group of classic automobile lovers to this region and for the local community to see such a unique collection of rare cars is truly exciting." Tickets are on sale to the public and can be purchased by contacting CVTM, tickets are $75 a piece.
In 1900, the Lozier Motor Company left its bicycle manufacturing business in Ohio and relocated to Plattsburgh, New York. The company built marine engines and passenger boats in a factory on the corner of Margaret Street and Cumberland Avenue. In 1905 the Lozier Motor Company switched to automobile production due to its year round demand. "Loziers" were not just any automobiles, they were some of the most expensive and exquisite vehicles of their time. In fact, the company had a breathtaking showroom on 42nd Street across from Grand Central Station in New York City. Lozier was almost always a podium finish, but its most remarkable finish was on May 30, 1911 at the Indy 500. It was the first time Lozier had entered this pinnacle of car racing, and it won a heavily contested second place. The Lozier averaged 80 miles per hour during the 100 mile-long race. Getting too big, too fast and problems among the company's leaders lead to its downfall, and in 1915, the plant was sold.
The cost to participate in the tour is $170 for car and driver plus $125 for each additional adult and $85 for kids age four and up. Registrants must be a member of HCCA and own a pre-1916 car.
Comfort Inn & Suites of Plattsburgh will serve as host hotel for the event. The newly renovated hotel will serve as the starting point for each day's itinerary
For more information or to register for the event visit goadirondack.com/hcca or call (518) 566-7575.
###