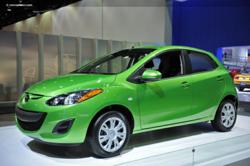 San Antonio, TX (PRWEB) May 13, 2011
When the professionals at Ingram Park Mazda - the premiere Mazda dealer in San Antonio Texas - were asked about the Mazda2, they said that they were aware of many different good things that came in small packages and that the new Mazda 2 was one of them.
A stylish, eco-friendly, fun-to-drive and very good with fuel efficiency, the five-door hatchback is set to become one of Mazda's most popular models in 2011.
The car was originally launched in 2007 and was first introduced in Europe, Japan and Australia. At the time, it was unique for subcompacts in that it paid attention to the details of what makes a good car great.
By doing this, Mazda was able to separate themselves from the competition, making the Mazda2 a very popular car very quickly. It has won a total of 48 automotive awards, including "Car of the Year" and many others.
The new Mazda2 for 2011 is characterized by performance, sportiness and simplicity at a price people can afford. And when the gas mileage part of the equation is considered, the savings really begin to add up quite a bit.
The sub-compact car has been around forever, but it took a company like Mazda to really start to concentrate on the small details that make the Mazda2 so special in many different ways.
The exterior design on the 2011 Mazda2 is unique and yet the same time not too different. It appears to blend into its surroundings. The aerodynamic shape also helps it get the great gas mileage on the highway and in the city.
The Zoom-Zoom driving experience that Mazda offers is based on a sense of linear acceleration and a sense of liveliness. When the Mazda2 is on the open road, both of these qualities are experienced.
That Mazda is able to offer a great driving experience at such a low price is astounding in many ways. However, when the local car dealers in San Antonio, Texas are asked what they think, they are quick to respond that they are not surprised at how well the Mazda2 has done.
Those who want to learn more about the Mazda2 are encouraged to stop by Ingram Park Mazda in San Antonio Texas. As the leading Mazda dealer in the area, they have a professional sales team and a wide selection of new and used Mazda models for sale.
###