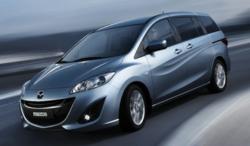 San Antonio, TX (PRWEB) May 13, 2011
When the professionals at Ingram Park Mazda - the premiere San Antonio Texas Mazda dealer - talk about the Mazda 5, you can see the love and adoration for the car in their eyes. While previous year models were great, the new 2012 Mazda5 delivers in many different ways, making it a perfect car for many different types of drivers.
"This concept expresses our goal to build a new family mover for the global market that offers a smart solution to the user's every need by establishing a balance between diverse functionality and outstanding performance," said Matsuoka.
Matsuoka and team identified five key values in the development of the 2012 Mazda 5:
● Smart and emotional design
● Rational, easy-to-use functionality
● Developed with the utmost quality
● Refined, dynamic driving performance without compromising environmental performance.
And as far as functional goes, the Mazda5 for 2012 is very practical and is good for daily drives.
"The Mazda 5 is part of a class of vehicle that is tremendously popular in Europe and Japan, where space and utility must be maximized and driving performance is held at a premium," says Matsuoka. "We set out to make sure this vehicle was fun to drive while also being versatile and practical. The attractive looks and good performance in no way compromise packaging and versatility."
With the small yet functional size, you are going to get even better gas mileage, which has many people excited. Overall, there are many different reasons to love this car. From the fuel economy to the sense of practical luxury in the cabin, you really have to see the new Mazda 5 for yourself.
The all new 2012 Mazda 5 is available in three different trim levels - the entry-level Sport, the Touring edition and the top-shelf Grand Touring. All three offer versatility, features and style that consumers want, at a price they can afford.
Those in San Antonio, Texas looking for a great, economical car with a lot of other features are encouraged to stop in at Ingram Park Mazda - the leading Mazda dealer in San Antonio, Texas and the surrounding area. Their sales team is professional, friendly, and standing by to help locals find the best deal on a new or used Mazda.
###