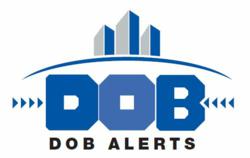 We are THE solution for NYC Dept of Buildings 311 complaints and avoid DOB ECB DOT violations!
New York, NY (PRWEB) May 17, 2011
Broken gates. Stop work order. Shaky scaffolds. Summons. Unsecured walls. Thousands of dollars in fines. Unless a contractor or property owner camps out on the front lawn of each and every one of his job sites or properties, it's impossible to promptly be aware of each and every problematic and dangerous situation. Until now. A recently launched innovative service offers a powerful, highly effective and completely revolutionary solution, the only one of its kind in existence.
DOB Alerts monitors each jobsite's condition electronically, notifying clients regarding any complaints that are registered with the NYC Department of Buildings so that problems can be handled as they occur, before NYC building inspectors arrive and issue stop work orders or summons.
DOB Alerts are the exclusive inventors of this unique and distinctive service, a valuable asset to all those involved in the construction industry, from contractors, developers, property owners and architects to home owners, electricians, plumbers, lumber yards and supply houses. When building, renovating, or performing any sort of construction many problems and dangerous situations can develop. If caught early, problems can be handled quickly and easily. Left alone, small issues mushroom into hazardous circumstances that are costly and time consuming to resolve.
DOB Alerts provides a welcome boost to the construction industry, a victim of the struggling economy. With DOB Alerts, DOB and ECB violations and penalties can be completely avoided, allowing projects to move ahead safely and quickly, as time and money are not wasted on navigating red tape and legal obstacles. DOB Alerts services the five boroughs of New York City, notifying clients via both phone text and e-mail alerts. As soon as a complaint is registered with NYC's 311, an alert is sent out detailing the exact grievance and the priority level as designated by the NYC Buildings Department- letting clients know what the problem is and just how quickly they must resolve it.
DOBAlerts.com has a sophisticated on-line system which allows clients to view each property's complete complaint history. The DOB Alerts system is remarkably easy to use. Clients simply register online and input all properties that they wish to be monitored. The account holder receives all phone and email alerts and has the ability to add another designated individual for each property (such as a foreman or property manager) to receive alerts as well. At any time, account holders can log in to their online account and track and review complaints.
DOB Alerts benefits all: Job sites are safer. Projects can be completed faster. No time or money is wasted answering summons, paying fines, and dealing with violations. DOB Alerts makes New York City a safer, better place to build.
For more information, visit http://www.dobalerts.com or contact support(at)dobalerts(dot)com
###