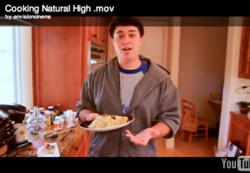 Most of my friends are abusing drugs in some way. But, when they saw what I accomplished through the rejection of drugs, they really respected that.
San Diego, CA (PRWEB) May 24, 2011
17-year-old Sam Cook gets high from cooking deliciously scrumptious meals. Playing over 12 different instruments sends 13-year-old Emily Grether in to a harmonious state of bliss. With his love of swimming, 16-year-old Pau Vilchez aspires to one day beat Michael Phelps. Aside from being exceptionally driven and remarkably zealous, these young people have something else very special in common. They've all made a choice and a lifestyle; the decision to pursue their passion over drugs, a reflection of the powerful message that was recently proclaimed in this school year's 2010-2011 Natural High Contest. With winners from California, New York, Oregon, Colorado and Virginia, Sam, Pau and Emily are just three of six teens whose entries blew the socks off the judges.
Sponsored by Natural High®, producers of NATURALHIGH.TV and the educational Natural High® DVD Series, the national contest asked young people to express via video, picture or essay their Natural High and how using drugs and alcohol could keep them from pursuing their Natural High to the fullest. A Natural High is an activity, art form, or sport that one loves to do, makes them feel good inside, and does not involve drugs and alcohol. The contest was promoted in schools, on naturalhigh,org, and social media platforms such as Facebook and YouTube. "Natural High has really made me think about the world of drugs and how bad they hurt people, plus how important it is to have a Natural High," says Taylor Janovicz winner of the Middle School Poster Art Category. "My friends and peers started to think about it too when they heard I won the contest."
The winning video in the High School Video Category was a group entry belonging to Sam Cook, Jack Parzaile, and Brica Lampe, from San Diego, California. "This was an interesting project," shares Jack Parziale. "Most of my friends are abusing drugs in some way. But, when they saw what I accomplished through the rejection of drugs, they really respected that. That felt really good." Their teacher, Mark Raines, Coordinator of Envision Cinema at Canyon Crest Academy, encourages his students to take part in the contest every year and has successfully taught them how to produce both superior films and a high quality message.
High School and Middle School students showcased their Natural High for a shot at winning $250 to put towards furthering their Natural High aspirations. Taylor's Natural High is a club she belongs to called "The Outkastz". She plans to use her prize money to take all the members to an amusement park. Anna Sisson, Winner of the Middle School Essay Category, plans to use her money on new running shorts, tennis shoes, and sporting equipment, to feed her thrills on softball, cross country and wrestling. Momentum for living a Naturally High lifestyle will not slow down however. Natural High® plans to provide more chances to win at this summer's Van's Warped Tour, where youth can draw and share their Natural Highs at the Los Angeles, Carson, Pomona, and Ventura shows.
To view the winning entries and learn more about Natural High® visit http://www.naturalhigh.org/contest.html.
###