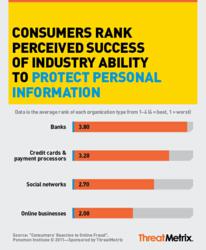 Los Altos, CA (PRWEB) May 12, 2011
ThreatMetrix™, the fastest growing provider of cloud-based fraud prevention solutions that do not require personally identifiable information (PII), today announced that a joint study with the Ponemon Institute reveals consumer sentiment surrounding industry ability to safeguard their personal information online. Results across four industries showed consumers are most confident in banks, followed by credit cards and payment processors, and social networks. Consumers believe online businesses are the worst at protecting personal information.
The report found that 88% percent of consumers would not do business with banks or credit card and online payment processors if they had doubts about their security measures. Seventy-seven percent said the same for online businesses, and 56% for social networks.
"It's logical that consumers should have the most confidence in the banking industry's ability to protect their information online, as banks have a responsibility to protect their customers' funds," said Reed Taussig, president and CEO, ThreatMetrix. "Social networks, however, surprisingly have a higher consumer confidence ranking than online businesses in regards to protecting personal information. That represents a problem for the e-commerce industry, which relies on secure online transactions as the foundation of their business model."
The survey found that the perception of a company's ability to prevent fraud weighs heavily in a consumer's online decisions. Three in four consumers said they would not do business with an online merchant if they had doubts about the site's security measures. Eighty-eight percent said the same of banks or credit card and online payment processors, and 56% for social networks.
"Banks, online businesses, social networks and payment processors are all targets from fraudsters who phish their accounts for emails and passwords," said Taussig. "Yet when you bring e-commerce transactions into the picture, consumers are still very wary about the security of that data. Banks understand the importance of communicating these fraud prevention measures, which online businesses must also do. It's the first step to increase that level of confidence to the point where a consumer is willing to complete a transaction."
More Aggressive Fraud Prevention Strategies
Eighty-five percent of survey respondents said online merchants, banks, social networks and payment processors should be more aggressive in preventing fraudsters from stealing consumers' information. Similarly, 80% believe these industries should leverage technology to improve authentication of consumers.
Yet not only are consumers indicating these industries need to take extra steps to combat online fraud, but 81% said they would be more willing to use a bank, credit card company or payment processor if they were notified that the organization was taking additional measures.
For the full results of the study, see the report, "Consumers' Reaction to Online Fraud."
Additional Resources

About Ponemon Institute
The Ponemon Institute© is dedicated to advancing responsible information and privacy management practices in business and government. To achieve this objective, the Institute conducts independent research, educates leaders from the private and public sectors and verifies the privacy and data protection practices of organizations in a variety of industries. For more information, visit http://www.ponemon.org.
About ThreatMetrix
ThreatMetrix helps companies stop web fraud and accelerate e-commerce in real-time so they can significantly reduce online fraud, acquire more customers faster, reduce costs, and increase customer satisfaction. The ThreatMetrix Cloud-Based Fraud Prevention Platform, incorporating ThreatMetrix SmartID™ cookieless device identification, provides online businesses with the ability to protect themselves and their customers by verifying new accounts, authorizing payments and transactions and authenticaticating user logins in real-time. Online businesses can deploy the ThreatMetrix Cloud-based Fraud Prevention Platform, which does not rely on personally identifiable information (PII), for traditional online activity via a personal computer as well as for mobile and tablet devices. The company serves a rapidly growing customer base around the world across a variety of industries including social networks (dating, gaming), financial services, e-commerce, affiliate marketing and payments. For more information, visit http://www.threatmetrix.com or call 1-650-625-1451.
© 2011 ThreatMetrix. All rights reserved. ThreatMetrix, the ThreatMetrix Cloud-Based Fraud Prevention Platform, ThreatMetrix SmartID, ThreatMetrix ExactID, and the ThreatMetrix logo are trademarks or registered trademarks of ThreatMetrix in the United States and other countries. All other brand, service or product names are trademarks or registered trademarks of their respective companies or owners.
###