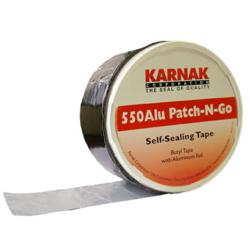 Karnak Patch-N-Go 550 is a true "One-Step" sealant product; that can stop leaking roofs in a quick and inexpensive manor.
Farmingdale, NJU (PRWEB) May 13, 2011
Do you have a roof leak in your flat roof? You're not alone! Recent extreme weather conditions have caused leaking roofs in commercial, industrial and residential buildings around the country.
Grailey Materials LLC is working with The Karnak Corporation, a major roofing material company, to sell Patch-N-Go 550 roof tape on its new online store. The Karnak Corporation is well known in the commercial roofing industry for their roof coatings for flat roofs, and roof repair products.
With the introduction of Karnak Patch-N-Go 550, it has made a roofing repair simpler then ever before. Patch-N-Go 550 is a self-sealing roof tape, composed of highly adhesive butyl rubber compounds that are available in either a protective aluminum film, absorbent fleece or double-sided. The aluminum reinforced film tapes are self-protecting making them a true "One-Step" sealant product that's available in White, Black or Silver.
This product was designed for fixing roof leaks and can be used on TPO roofs, EPDM roofs, PVC roofs, metal roofs and asphalt roofs. Patch-N-Go is also great for RV roof repair. A leak in a roof can be costly but these butyl tapes were developed to quickly seal surfaces and stop leaking roofs in a quick and inexpensive manor. Karnak Patch-N-Go 500 was designed for professional roof contractors, but can also be used by a do-it-yourselfers. Also can be used in commercial roofing or residential roofing.
About The Karnak Corporation
Karnak manufactures a complete line of reflective coatings, cements and sealants for roofing and waterproofing. Karnak is the leading manufacturer of Energy Star labeled coatings and their products are tested for fire resistance and wind uplift by UL and FM. Products are certified to comply with ASTM Specifications by UL Laboratories. Karnak Energy Star labeled coatings can help buildings obtain LEED points. Products are CRRC listed. Karnak is a leader in the development of a variety of technologies. Karnak developed the first UL Class "A" Rated aluminum, Karnak 97. Karnak also developed the first Modified Adhesive in the industry, Karnak 81 Modified Adhesive. They are a charter partner of the Energy Star Program, and are active participants in the RCMA Sustainability Committee. For additional information about Karnak please visit [http://www.Karnakcorp.com.
About Grailey Materials, LLC
Grailey Materials, LLC is a manufacturer and supplier of emergency Go Grailey Roof Leak Diverters and roofing repair supplies. Consultants of Grailey Materials, LLC have been to hurricane and storm-damaged areas and know how important it is to control a roof leak and prevent interior damage due to water infiltration. Experts at leak detection, Grailey Materials, LLC has spent a great deal of time working closely with building managers to develop leak control products that are strong and reliable in any situation. Grailey Materials, LLC sells the highest quality products at a very fair price and is constantly working on adding additional Roof Leak Control Products to their line to fulfill their customers' needs. For additional information please visit [http://www.graileyleakdiverters.com.
# # #