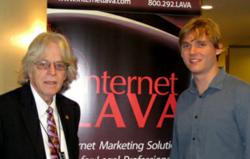 Houston, TX (PRWEB) May 12, 2011
Internet LAVA, a Houston-based web development company, is pleased to announce their sponsorship of the 2011 NORML Aspen Legal Seminar. As a company that actively supports the overall goals of NORML, Internet LAVA is excited to work with marijuana defense attorneys and law firms during the course of the Colorado seminar. The company provides marketing solutions exclusively to the legal community through the use of creative web design and online marketing services. Internet LAVA is proud to be a part of this special event.
The NORML Aspen Legal Seminar takes place from June 2nd to the 4th at The Gant, a world-class condominium and ski resort in Aspen, Colorado. During the 3 day event, attorneys from the NORML Legal Committee meet to discuss current marijuana legalization issues and criminal defense tactics. The knowledge shared during this event helps enhance NORML's efforts to pursue responsible marijuana reform on a state and federal level.
NORML founder and legal counsel, Keith Stroup, shares his perspective on this year's Aspen event. He comments, "Aspen, Colorado, is one of the most marijuana-friendly cities in America, and provides a beautiful Rocky Mountain environment for our annual summer legal seminar." The progress made in Colorado reflects many of NORML's goals and provides inspiration for continued reform efforts. Keith went on to say, "Colorado has become the epicenter of the marijuana legalization movement in this country, where a full legalization voter initiative is expected to qualify for the ballot in 2012, making it the state that will likely become the first in the nation to re-legalize the responsible use of marijuana, regardless of why one smokes."
In addition to creating a forum for attorneys active in marijuana policy change, the annual legal conference also provides Continuing Legal Education (CLE) credits. These credits are available for practicing attorneys who are required to obtain continuing education by their state bar associations.
During the seminar, attorneys and other marijuana reform activists from around the country will meet to discuss legal issues, including:

"Religious Use of Marijuana as a Defense." Jay Leiderman, Ventura, CA
"Medical Marijuana and Workers' Rights: Overcoming the 5 Biggest Myths." Kimberlie Ryan, Denver, CO
"Ethical Issues Presented When Representing Medical Marijuana Growers and Dispensaries." Thomas Dean, Flagstaff, AZ and Lynne Williams, Bar Harbor, ME
"Cannabis and Family Court: A Survival Guide to Representing Cannabis Consuming Parents in Dependency and Divorce Proceedings." Lee Berger, Portland, OR
Internet LAVA CEO Jason Miller will also be presenting during the event, drawing on his specialized knowledge of marijuana defense marketing. His speech titled, "What Every Criminal Defense Attorney Needs to Know about Search Engine Optimization (SEO)," will take place on Friday, June 3rd from 12:50 to 1:50pm.
This will be the Houston-based web development company's 2nd experience sponsoring the twice yearly event. Last year, Internet LAVA sponsored the December 2010 legal seminar in Key West, Florida. Reflecting on the previous event's success, Jason comments, "Key West 2010 was our first NORML seminar and it was spectacular. We were able to take home a wealth of knowledge, which has helped us enhance the connection between our marijuana defense attorneys and their respective clients."
While in Key West last year, Internet LAVA was able to network with many of the top marijuana defense attorneys in the country, including Rochelle Berliner, a criminal defense attorney in Queens, NY. She commented, "Internet LAVA has created an amazing new website for my law practice. They are very knowledgeable and take great pride in their work. I highly recommend them."
The National Organization for the Reform of Marijuana Laws (NORML) is a non-profit, public-interest organization that provides a voice in the public policy debate for Americans who oppose marijuana prohibition. NORML lobbies state and federal legislators to remove criminal penalties for the private possession, cultivation, and responsible use of marijuana by adults. NORML also serves as an informational resource for the news media and provides expert witnesses to assist in cases where individuals are charged with marijuana related crimes.
The NORML Legal Committee (NLC) helps inform and direct the organization's focus on legal issues. Over 350 practicing defense attorneys from across the nation serve on the NLC. These attorneys meet biannually in Key West and Aspen to discuss important legal issues related to the defense of marijuana consumers and marijuana law reform. By defending marijuana users and challenging inappropriate law enforcement activities, the NLC has been a significant force in the fight against prohibition.
Internet LAVA is a professional web development and marketing company based in Houston, Texas. With a focus on attorney website design, Internet LAVA creates comprehensive online marketing strategies for criminal defense attorneys who represent individuals charged with marijuana-related crimes. The marketing company helps attorneys easily reach prospective clients who can most benefit from their legal representation, whether it relates to marijuana defense or another practice area.
For more information about NORML, the 2011 NORML Aspen Legal Seminar, or the NORML Legal Committee, please visit norml.org
To learn more about Internet LAVA and attorney website marketing, please visit internetlava.com.
# # #