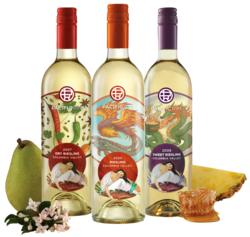 We want to inspire fans to express their love for this grape through personal connections and passionate proverbs – anecdotes, creative puns and jokes welcome.
Richland, WA (PRWEB) May 12, 2011
Since its launch in 2007, Pacific Rim has been extolling Riesling's virtues – versatility, purity of vineyard expression and the varietal's ability to inspire all manner of culinary exploration. Beginning Monday, May 16th, the winery is passing the torch to its 12,000-plus Facebook fans and a nation of passionate Riesling zealots. Pacific Rim fans and all lovers of this most noble of wine varietals will have the opportunity to lead the Riesling conversation by sharing their personal "Riesling for Being" on Pacific Rim's Facebook page.
Each week for the ten weeks up to July 24th, Pacific Rim Facebook fans will vote to award $1,000 to the author of the most popular weekly submission. Entries are limited to 20 words or less and will be accepted from Monday through Friday. Voting will occur on Saturday and Sunday. The contest is open to United States residents aged 21 or older in all states except California. Riesling fans can learn more and enter by visiting the Pacific Rim Facebook Fan page
Brand Development Director and Co-Founder, Shawn Barvaresco, explains: "We want to inspire our fans to openly express their love for this glorious grape through personal connections and passionate proverbs. We've been singing Riesling's praises for nearly five years… It's now time for our fans to voice their love of Riesling. All personal anecdotes, creative puns and jokes are welcome – as long as the submissions are relatively tasteful and pertain to Riesling."
Pacific Rim has over 12,000 Facebook fans. The brand's fan base of Riesling loyalists was built through several innovative social media programs launched in the past few years, including the RIESLING RULES BOOK and SAVE WATER/DRINK RIESLING sustainability program (a conservation awareness program promoting the preservation of wild salmon ecosystems). To date, Pacific Rim has distributed over 40,000 complimentary copies of its RIESLING RULES BOOK, which is also available online.
About Pacific Rim:
At Pacific Rim, Riesling Rules. Pacific Rim celebrates Riesling in all its wondrous forms. We make ten different Rieslings in ten different styles (from bone dry to medium sweet to dessert sweet… and everything in between). Pacific Rim was founded in 2007 and purchased by the Mariani family in January 2011. It is managed as a wholly separate company from the Mariani Family's brands within Banfi Vintners' portfolio. http://www.rieslingrules.com
###