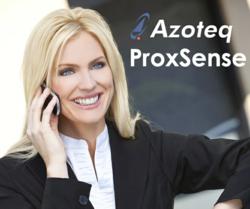 The next advance in touch technology is the addition of proximity technology
Austin, TX (PRWEB) May 12, 2011
Azoteq, the world leader in proximity and touch solutions, today announced the release to market of the IQS128. The IQS128 features the unique Azoteq approach that offers both capacitive proximity and touch sensing in the same device using a single antenna. The IQS128 is a cost effective replacement for mechanical switches and optical proximity sensors, offering electrical isolation, unlimited operation and omnidirectional proximity sensing.
"The next advance in touch technology is the addition of proximity technology which requires a sensor 100 times more sensitive than existing solutions and Azoteq is first to introduce a single chip solution", said Dr. Frederick Bruwer, CEO and President of Azoteq.
"The IQS128 is the first device to offer a solution to meet FCC SAR (specific absorption rate) requirements for cell phones and tablets to reduce RF power when the device is in close contact to a human" said Kobus Marneweck, VP of Marketing. "The ProxSenseTM family now has over 20 products", he added.
Significant savings can be realized compared to electro-mechanical switches and the IQS128 offers the added advantages of electrical isolation and unlimited operation. A touch pad can be realized with a simple pad on a PCB and easily projected through a variety of dielectric materials. The IQS128 can be used to implement a triple action switch - an approaching finger wakes the device, a light touch selects a first function and press selects a second function.
The IQS128 is specifically aimed at proximity handheld detection in tablet PC's, on-ear detection for mobile phones and other proximity applications. The capacitive technology holds advantages of very low power consumption, omnidirectional sensing and does not require an aperture lens.
Features:

DYCALTM Intelligent Hysteresis
Internal Capacitor Implementation (ICI)
Automatic Antenna Tuning Implementation (Auto-ATI)
Supply voltage: 2.95V to 5.5V
Minimal external components
1-Wire open drain data streaming
Advanced on-chip digital signal processing
User programmable (OTP) functions
External synchronization control
External control over filter operation
I/O Sink or Source selection
Time-out for stuck key detection
Proximity and Touch sensitivity
6 pin TSOT23-6
Touch: 6 mm plastic, 10 mm glass
Proximity: 15 cm
Applications:

Handheld detection for Tablet PC's
On-ear detection for mobile phones
Human Interface Devices
Proximity Detection Enabled Backlighting
Touch and proximity without host controller
Occupancy sensors
Personal Media Players
3D glasses
White goods and appliances
Pricing and Availability
The IQS128 will be priced at $0.40 in quantities of 1000. Samples and production are available now. More information on the IQS128 can be obtained here: http://www.azoteq.com/index.php?page=iqs128
About Azoteq (Pty) Ltd
Azoteq (Pty) Ltd (http://www.azoteq.com) is the world leader in proxmity and touch solutions for switches, sliders, scroll wheels and touch screens in consumer and industrial applications. Azoteq (Pty) Ltd has design and manufacturing centers in South Afica and China. Azoteq (Pty) Ltd has sales offices and distributors in South Africa, Asia, Europe and the USA.
IQ Switch®, ProxSenseTM, LightSenseTM, AirButton®, DYCALTM are trademarks of Azoteq (Pty) Ltd.
Editorial Contact & Interviews:
Kobus Marneweck
+1-512-538-1995
kobusm(at)azoteq(dot)com
http://www.azoteq.com
High-resolution images
http://www.flickr.com/photos/62497490@N03/5711772578/
http://www.flickr.com/photos/62497490@N03/5711772614/
http://www.flickr.com/photos/62497490@N03/5711772686/
###